News
'Charlie's Angels' Jaclyn Smith, 77, Shows Son's Wedding Months after He Named Baby after Her

"Charlie's Angels" star Jaclyn Smith shared videos from her only son's wedding ceremony, and the 77-year-old looked gorgeous.
She also became a grandmother again a few months ago, and her grandbaby, who was also at the wedding, was named after her.
Since beating cancer, Smith has devoted her days to her beloved family.
American actress Jaclyn Smith, 77, best known for her portrayal as one of the original "Charlie's Angels," Kelly Garrett, is a loving mom of two, Gaston and Spencer Richmond. Smith shares her kids with her ex-husband, Cinematographer Anthony Richmond.
Besides the success of her illustrious career, Smith is an extremely devoted mother to her two beloved kids. Though she boasts about her children and occasionally shows them off in pictures, Smith tends to keep her family life private and away from the public eye.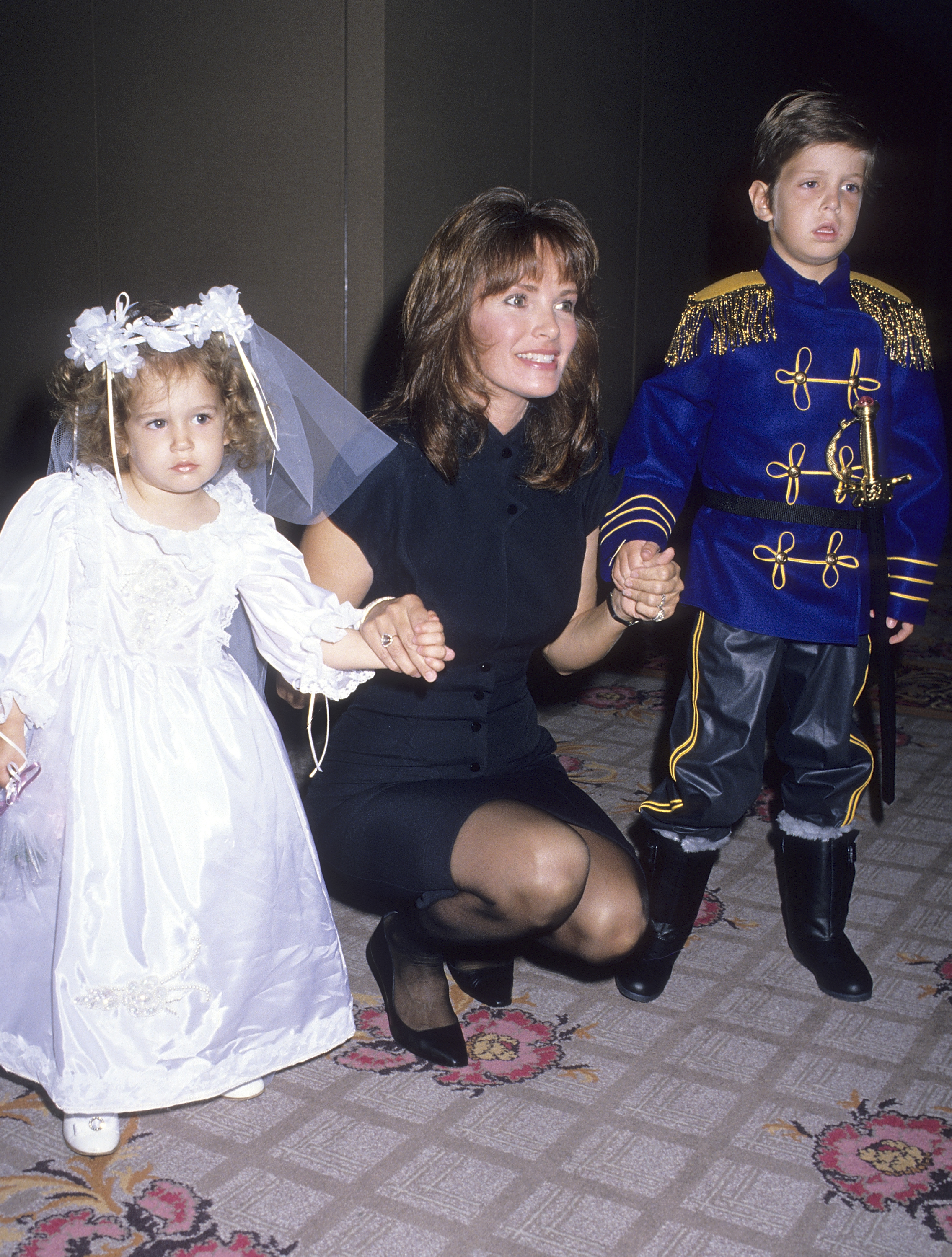 Spencer Richmond, Jaclyn Smith and Gaston Richmond at the Inner Circle for Los Angeles Childrens Museum's Fifth Annual Halloween Carnival and Fashion Show in Century City, 1988 | Source: Getty Images
Despite being faced with a serious health challenge when she was diagnosed with cancer, Smith's dedication to her children never wavered. In fact, during a previous interview, the "Bridal Wave" talent divulged that the first thing she thought about when her doctor informed her of her diagnosis was her kids:
"There is that moment when your world stops spinning and you think, 'Wow, I have two kids.' My first question was, 'Am I going to be here for my kids?' And my doctor said, 'Ninety-eight percent you're going to be here, so don't worry. We got this early.' "
Thankfully, Smith managed to beat cancer and got her health back. For the actress, family means everything. Even as her kids grew older, Smith continued to place her family over and above everything else, and to this day, their close-knit bonds remain intact; whether it's having regular dinners together or de-stressing with some garden work, Smith makes an avid effort to spend copious amounts of time with her children.
 

Xem bài viết này trên Instagram

 
Jaclyn Smith's Granddaughter Got Her Namesake When She Was Born
Besides being an amazing mother, Smith is also a doting grandmother. Earlier this year, on April 25, she became a grandma for the third time with the welcome of her son's second baby, who shares her grandmother's namesake: Wren Jaclyn Richmond. Of Bea (Smith's daughter's child), Olivia Rose, and Wren, Smith emphatically expressed:
"It's the best thing in my life… It's like you need an extra chamber in your heart. In many ways that grounds you because you look beyond yourself… You know you'd give it all for them."
 

Xem bài viết này trên Instagram

 
Jaclyn Smith Showed off Stunning Footage & Photos from Her Son's Wedding Ceremony
A few months following the birth of baby Wren, Smith's son, Richmond, and his partner Bonnie, got married and had a beautiful wedding ceremony. Mama Bear Smith took to Instagram to boast about the joyous occasion in a series of posts that showed video footage and images of the special event.
In the first post, Smith posted a video showing the happenings of the wedding rehearsal, where family and friends were in attendance. The gorgeous venue was filled with luscious green shrubbery and beautiful decor and showed everyone in high spirits having a great time while practicing for the big day.
Being a loving mom and grandmother is what keeps her busy nowadays.
 

Xem bài viết này trên Instagram

 
The second post showed two pictures taken on the actual day of the wedding. In the first image, Smith looked gorgeous in a slightly sparkly, light turquoise gown with feathers lined at its top and bottom.
The second image showed the dapperly-dressed groom standing beside his equally smartly-dressed stepdad. His stunning-looking sister, who wore a green floral print dress, was standing on the other side of their stepfather.
 

Xem bài viết này trên Instagram

 
The last post of the special day showed another video of the wedding, which took place outside, the guests and the newlywed couple. Smith's endearing caption reads:
"There is nothing like family, and ours grew this weekend! I'm so endlessly proud of my son Gaston and am wishing him and Bonnie a lifetime of happiness."
 

Xem bài viết này trên Instagram

 
Smith continues to live out her days feeling blessed with her beautiful family.
Being a loving mom and grandmother is what keeps her busy nowadays.