News
Couple Who Couldn't Have Kids For Years Give Birth To Five Babies At a Time: 'God Showed Up Big'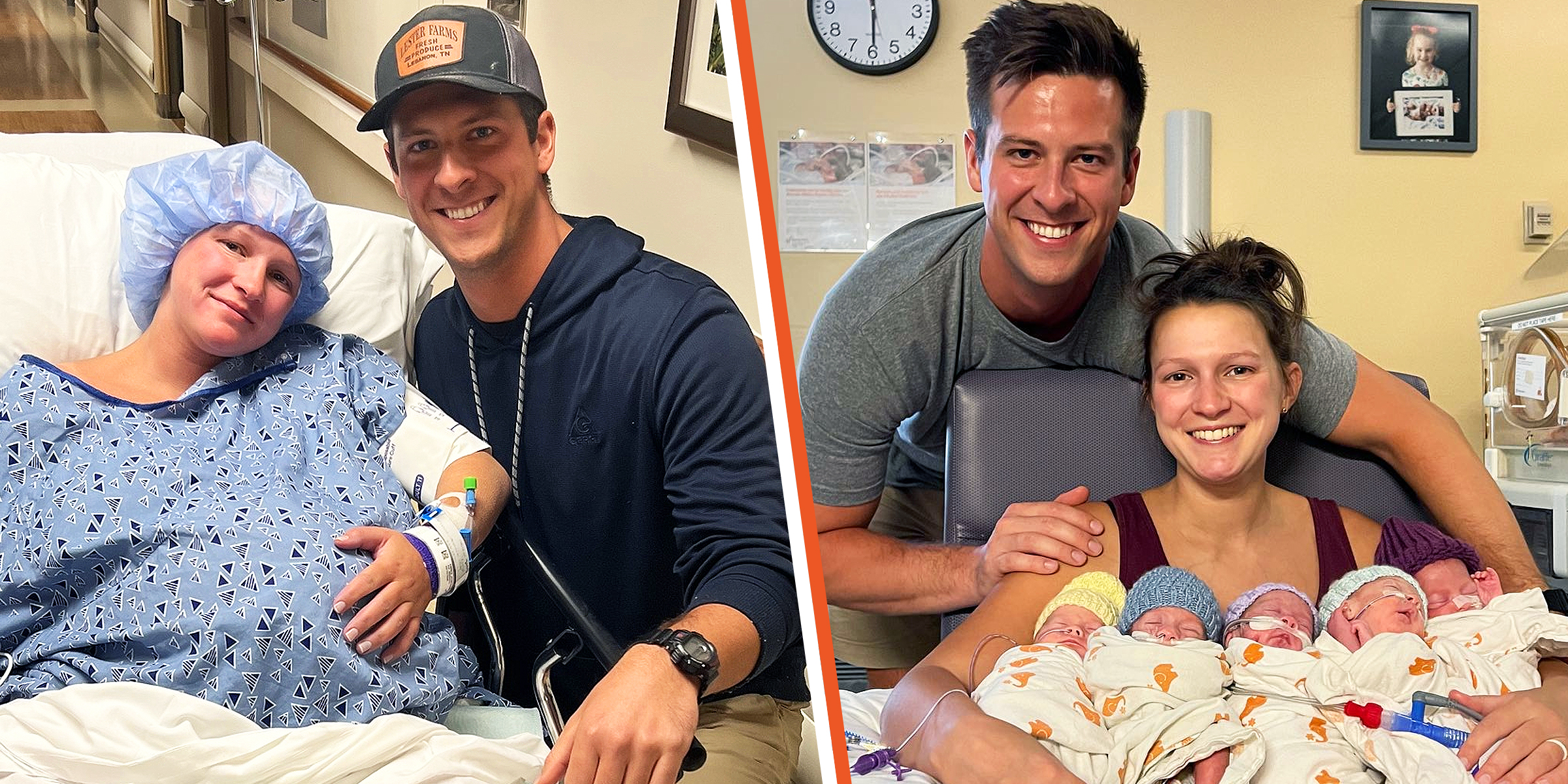 They waited years to be called "Mom" and "Dad," but one couple didn't know it would come in a chorus of five tiny voices. The Freels family is now living as a happy family of seven.
Graham and Stephanie Freels were happily married and eager to start their own family. Still, after five years of fertility issues, they knew they had to consider their options outside conventional conception.
Five years after the couple began trying for a baby, they opted for intrauterine insemination, or IUI, to try and fall pregnant. They didn't know how well the conception method would work and what lay ahead of them.
Now, the Freels are living happily with their children and are grateful that even though things didn't turn out as planned, they have their children, and their little family is complete.
How Many Children Did Graham and Stephanie Have?
Stephanie was ecstatic after finding out that she was pregnant in late December last year. She would finally begin the big family she had dreamed of having for over five years. However, she never could have expected what happened next.
A few weeks after she learned she was pregnant, Stephanie and her husband, Graham, discovered they were not having one baby but five. This changed all the couple's plans for the future.
They were living with Stephanie's parents at the time and had told them at the beginning of December that they were moving in the new year and had signed a lease on an apartment. However, when they found out about the babies, Stephanie called her landlord and said:
"I think we're about to have a lot of kids, and I don't think that apartment is going to work for us anymore."
In March this year, the Freels moved to Phoenix temporarily so that Stephanie and the quintuplets could be cared for by the best doctors available to them at that time. When the babies were born, Graham shared their birth story on Facebook.
Graham revealed that the babies had arrived on June 3 after they went to the hospital, as Stephanie was experiencing back pain at 27 weeks and two days pregnant. When they arrived, they discovered she would need to have an emergency cesarean to deliver her babies healthily.
An hour after the surgery began, on June 4, all five babies were brought into the world. They were relatively healthy but needed to be in the NICU for several weeks on respirators and receiving specialized medical care before they could go home. Of their birth, Stephanie shared:
"God has purposefully entrusted us with these five precious babies."
The babies were in the hospital for some weeks before Stephanie and Graham were allowed to take them home, but they received many prayers and good wishes from friends and family throughout that time.
What Happened When the Babies Went Home?
Eleven weeks after the quintuplets were born, Stephanie and Graham were finally allowed to take their four daughters and son home. The Freels named Adelyn, Eliana, Linnea, Fisher, and Harper their children.
Fisher, the couple's only son, was the last child allowed to go home and complete the family. The Freels have expressed thanks to God and those who prayed for their babies throughout the difficult first days of their lives.
The twins are fraternal, meaning that the Freels can quickly tell their children apart as they are back living with Stephanie's parents, who have been extra sets of helping hands when Stephanie and Graham needed it.
The Freels also expressed their intense gratitude for the nurses and doctors who had helped them when their babies were born and in the days leading up to their birth. Graham gushed:
"They truly are just amazing people and just the amount of care they put into taking care of not only our babies but every single baby they're working with. They're doing amazing things."
In his Facebook post following the quintuplets' birth, Graham thanked everyone who had been there for them and said he felt that God had given them the children for a reason and they would do their best for them, musing: "God showed up big."
While Graham and Stephanie's doctors did all they could to ensure the couple welcomed five healthy babies, another woman had a different experience when she fell pregnant with quintuplets. Read the full story here.