Days of our Lives
Days Of Our Lives Spoilers: 3 Must-See DOOL Moments – Week Of July 31
Days of Our Lives spoilers for the week of July 31 reveal that there are three must-see moments. Fans can expect Leo Stark (Greg Rikaart) to stop Gwen Rizczech (Emily O'Brien) and Dimitri von Leuschner's (Peter Porte) wedding. Sloan Petersen (Jessica Serfaty) is questioned about Nicole Walker's (Arianne Zucker) test results. Plus, Brady Black (Eric Martsolf) faces losing custody of Rachel Black (Finley Rose Slater).
Days Of Our Lives Spoilers – Leo Stark's Wedding Interruption
DOOL spoilers for the week of July 31 reveal that one must-see moment centers on the double wedding. While Stefan DiMera (Brandon Barash) and Gabi Hernandez (Camila Banus) do tie the knot, will the same happen for Gwen and Dimitri? That remains to be seen, but we do know a few things for certain.
First of all, Leo blurts out that Gwen can't marry Dimitri during the ceremony. Gwen's jaw drops open and her eyes search Leo's face for answers. However, will Leo really expose the truth to Gwen in that moment? Even though Leo gets everyone's attention, he might make up a cover story at the last minute.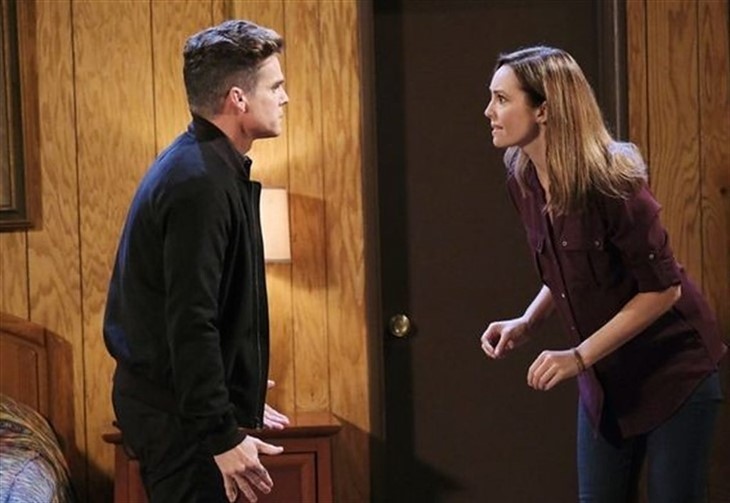 DOOL Spoilers – Sloan Petersen Grilled
During the week of July 31, another must-see moment features Sloan and DA Melinda Trask (Tina Huang). Recently, the two characters connected. In the weekly preview clip, Sloan is determined to prevent anyone from finding out that Nicole is carrying Eric Brady's (Greg Vaughan) baby.
Expect Sloan to tamper with the test results. In fact, Nicole is stunned – and perhaps a bit suspicious – when her test results "accidentally" get sent to Sloan. Fans can also expect Trask to bluntly and directly ask Sloan if Eric is Nicole's baby daddy.
Days Of Our Lives Spoilers – Brady Black's Custody Shocker
Days of Our Lives spoilers for the week of July 31 reveal that another must-see moment centers on Brady and Kristen DiMera's (Stacy Haiduk) custody battle over Rachel. When "Bristen" face the judge, they both expect it to end with shared custody. However, even Kristen is thrown for a loop when the judge questions Brady's fitness as a parent.
DOOL Spoilers – Week of July 31
Even though Brady tries to explain the circumstances of the gun to the judge, it doesn't look good. It appears that Kristen could actually get custody of Rachel. This could send Brady back on a very dangerous and dark path.
Which storyline are you looking forward to seeing the most during the week of July 31? What are your predictions for Leo, Dimitri, Gwen, Stefan and Gabi? What does the future hold for Sloan, Nicole, Eric, EJ DiMera (Dan Feuerriegel), Brady and Kristen? Share your thoughts in the comment section below. Remember to keep watching the soap on Peacock to find out what happens next.
Be sure to catch up on everything happening with DOOL right now. Come back often for Days of Our Lives spoilers, news, and updates.