Days of our Lives
Days Of Our Lives Spoilers Monday, August 7: Double Proposals, Secrets Lovers Exposed & Baby Bombshells
Days of Our Lives spoilers for Monday, August 7 reveal that there will be two proposals. Plus, one secret lover is found but a divorce or annulment might not be an option.
Plus, Maggie Horton Kiriakis (Suzanne Rogers) learns Sarah Horton's (Linsey Godfrey) secret. Elsewhere, Xander Cook (Paul Telfer) has a surprise for Chloe Lane (Nadia Bjorlin). Keep reading to find out what is coming up in the Peacock soap opera.
Days Of Our Lives Spoilers – Gwen Rizczech's Scandalous Discovery
DOOL spoilers for Monday, August 7 reveal that Dimitri von Leuschner (Peter Porte) and Gwen are now married. Gwen is on cloud nine but the same can't be said for Dimitri. As fans know, Dimitri is secretly involved with Gwen's BFF, Leo Stark (Greg Rikaart).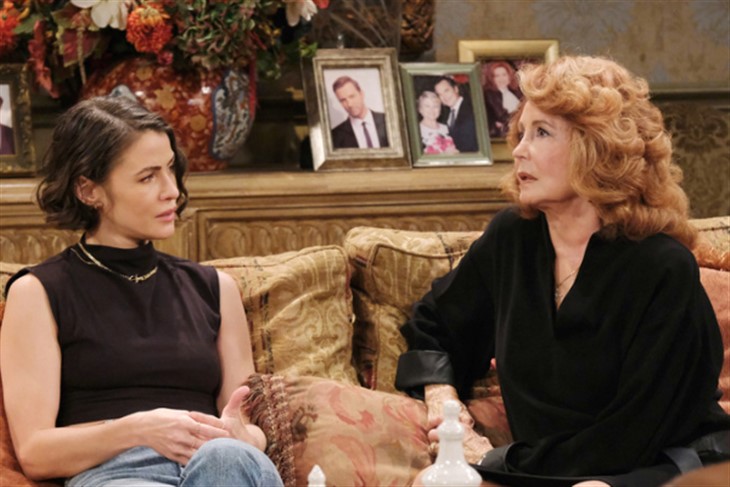 The morning after the wedding, Gwen tried to get intimate with Dimitri. However, he imagined Leo and freaked out. It's not like Dimitri can really tell Gwen why he suddenly couldn't perform, though!
In Monday's episode, fans can expect Gwen to discover Leo hiding his lover. Will it really be that easy to get a divorce, though? Even though Dimitri got the green light to marry a man, there is more to this story.
DOOL Spoilers – Sarah Horton's Secret Exposed
On Monday, August 7, fans can expect Maggie to take a trip to Chicago. Maggie will track down Sarah and find out she's very pregnant. Sarah might try lying to Maggie about Rex Brady (Kyle Lowder) being the father.
After all, Sarah knows that Maggie and Xander are close. However, it is teased that Maggie finds out the truth. So, perhaps Maggie can tell her daughter is lying. Another possibility is that Maggie does the math and realizes Rex can't be the father of Sarah's baby.
Days Of Our Lives Spoilers – Xander Cook's Surprise
Days of Our Lives spoilers for Monday, August 7 reveal that Xander and Chloe are in a romance. However, Xander still isn't over Sarah or Gwen. Xander recently fumed over Gwen marrying Dimitri. Chloe didn't say much, but her facial expression suggested she was concerned.
So, when Xander suddenly proposes to Chloe, she might not say yes. Chloe will question Xander's motives, especially since Gwen's wedding to Dimitri was front-page news.
DOOL Spoilers – Monday, August 7
On Monday, August 7, fans can also expect Nicole Walker (Arianne Zucker) to get caught between conflicting proposals. So, stay tuned to see if these are marriage proposals or something else.
Which storyline are you looking forward to seeing the most on Monday, August 7? Share your thoughts in the comment section below. Remember to keep watching the soap on Peacock to find out what happens next.
Be sure to catch up on everything happening with DOOL right now. Come back often for Days of Our Lives spoilers, news, and updates.