Days of our Lives
Days Of Our Lives Spoilers: Vivian Alamain Wants Stabi To Forget About DiMera & Work For Titan
Days Of Our Lives (DOOL) spoilers suggest Vivian Alamain (Louise Sorel) will cause a ton of chaos in Salem for most of September. She's recently returned to the little town, recently released from prison, claiming to be Victor Kiriakis's (John Aniston) sole benefactor.
Seems like this could be the case, which means she not only has authority over the Kiriakis mansion but likely over Titan, too.
Days Of Our Lives Spoilers – Vivian Alamain Wants To Make Up For Lost Time
DOOL spoilers suggest that Viv will throw a wrench in Stabi's plan, the week of September 18th.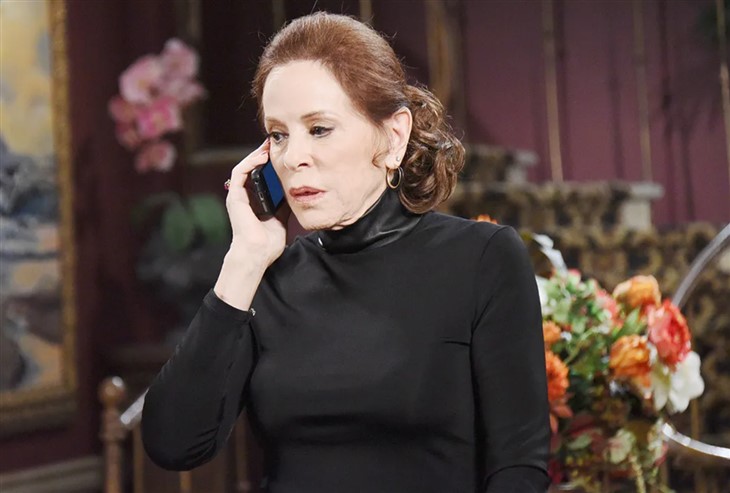 Gabi DiMera (Camila Banus) and Stefan DiMera (Brandon Barash) are laser-focused on gaining control of DiMera Enterprises, and this has always been a top priority for the super couple. Still, with Mommy dearest back in the Salem scene, should they pivot?
DiMera Enterprises is an incredible company and Stefan's father's legacy; however, Titan is no slouch when it comes to soap opera conglomerates.
Why fight over a piece of the pie with your siblings when your mom can cut you a nice big chunk of cake from her own stash? Viv will likely want Stefan to help her run Titan and offer him a comfy position.
After all, she's not only missed time with him because of his "death", but she was also locked up in prison when he came back to life.
The two could spend a ton of time together and bond. She may not want Gabi in the mix of things, but could Stefan sway his wife to see his mother's perspective?
DOOL Spoilers – Will Stefan Have To Choose Between His Mom & Wife?
Gabi will likely hate the idea of jumping ship to Titan. While she's only been a DiMera through marriage, she's always had such a soft spot in her heart for Stefano DiMera's (Joseph Mascolo) company.
Plus, she has a ton of experience with the organization, has worn multiple hats in different roles, and knows its portfolio, inside and out. She might not want to switch gears, especially if it means reporting to her mother-in-law.
Will Stefan be stuck between a rock and a hard place, choosing between what his mom wants versus his wife?
Share your thoughts below. Check out the popular Peacock soap to watch all the drama unfold and visit this site daily for the latest Days of Our Lives spoilers, news, and updates.
For more about what's happening on your favorite soaps and more ways to connect with us, join the conversation on our Facebook Page, check out our Twitter feed, look for an update on our Instagram, follow us on Threads , Always stay up-to-date with us on Google News, or drop us an e-mail HERE! See you there!