Days of our Lives
Days Of Our Lives Spoilers Week Of July 24: Sinister Secrets Exposed, Scandalous Discoveries, Prayers Answered
Days of Our Lives spoilers for the week of July 24 reveal that Gwen Rizczech (Emily O'Brien) learns about Leo Stark (Greg Rikaart) and Dimitri von Leuschner (Peter Porte).
Plus, Eric Brady (Greg Vaughan) rages at Sloan Petersen (Jessica Serfaty). Elsewhere, EJ DiMera (Dan Feuerriegel) and Nicole Walker (Arianne Zucker) go through another baby test. Fans can also expect Abe Carver (James Reynolds) to wake up.
Monday, July 24: Whitley King's Psychosis
DOOL spoilers for Monday, July 24 reveal that Whitley King (Kim Coles) has a break with reality. Rafe Hernandez (Galen Gering) and Jada Hunter (Elia Cantu) are horrified to find a lifeless Lani Price-Grant (Sal Stowers). Marlena Evans (Deidre Hall) hears that Abe is alive.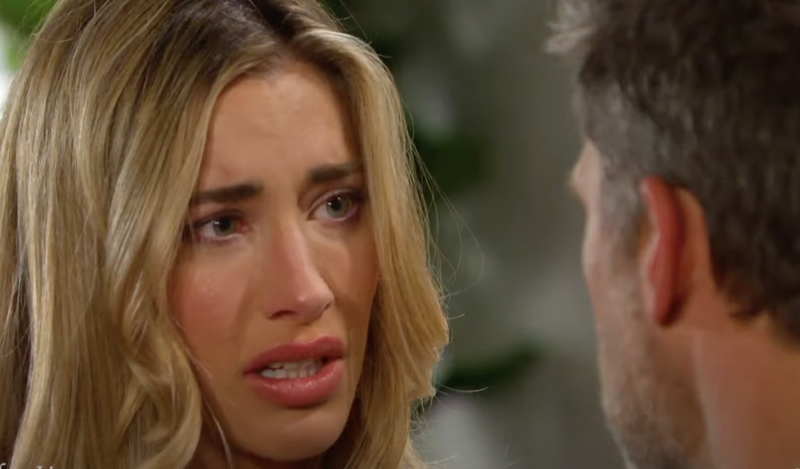 Plus, Chad DiMera (Billy Flynn) opens up to Theo Carver (Cameron Johnson). Fans will also see Alex Kiriakis (Robert Scott Wilson) pay a visit to Stephanie Johnson (Abigail Klein). How will Chad feel about this when he learns about Alex's actions?
DOOL Spoilers: Tuesday, July 24
On Tuesday, July 24, fans can expect Belle Brady (Martha Madison) to ask Kristen DiMera (Stacy Haiduk) to recant her statement. Brady Black (Eric Martsolf) confesses to Eric that he threatened Kristen with a gun. EJ and Nicole see a baby specialist.
Elsewhere, Sloan bonds with Melinda Trask (Tina Huang). Fans will also see Li Shin (Remington Hoffman) recalling what happened with Melinda. It sounds like Li might consider giving Melinda another chance.
Wednesday, July 25: 'Ericole' Discovery
Days of Our Lives spoilers for Wednesday, July 25 reveal that a guilty Leo tries to be supportive of Gwen. Sloan panics that her secret will be exposed.
EJ and Nicole find out that Sloan is pregnant with Eric's baby. How will Nicole feel about this, and will EJ pick up on it? Elsewhere, Chad and Stephanie's evening is interrupted once again.
Days of Our Lives Spoilers: Thursday, July 26
On Thursday, July 26, fans can expect Gwen to suddenly come back only to find Leo with Dimitri. Lani is forced to say goodbye as Abe finally wakes up. Plus, Marlena pays a visit to Whitley.
Friday, July 27: Gwen Rizczech's Discovery
On Friday, July 27, Rafe tells Jada that he wants to go public with their relationship. Dimitri sends Leo a scandalous sext message. However, Gwen just happens to read the messages. Meanwhile, it's Gabi and Stefan's wedding day. Fans can also expect to get the test results.
Which storyline are you looking forward to seeing the most during the week of July 24? Share your thoughts in the comment section below. Remember to keep watching the soap on Peacock to find out what happens next.
 Be sure to catch up on everything happening with DOOL right now. Come back often for Days of Our Lives spoilers, news, and updates.
Make Sure to follow us on YouTube HERE for all the Days Of Our Lives Spoilers and More!