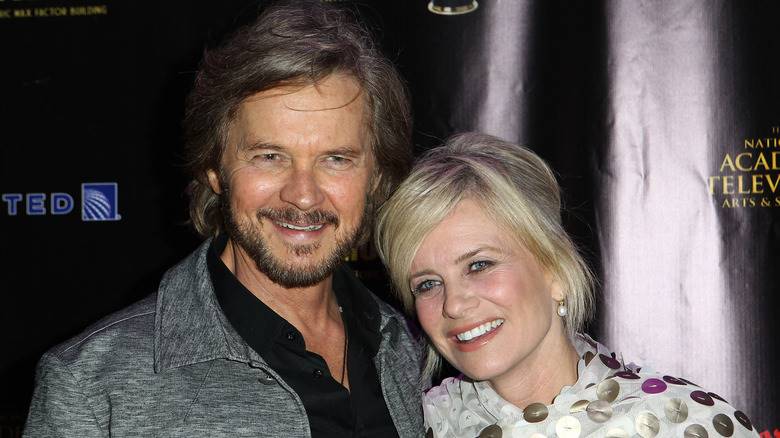 Steve Johnson (Stephen Nichols) and Kayla Brady (Mary Beth Evans) are one of the most iconic couples on "Days of Our Lives." The duo has been a favorite among fans for decades, as their love story is one for the ages, and their multiple weddings have also been memorable. Over the years, the pair have had so many ups and downs in their lives, including a very rocky start to their romance. Kayla's first husband was actually Steve's own brother, Jack Deveraux. When Steve believed that Jack was dying from a severe illness, he encouraged Kayla to marry him to make his final days happy. However, Jack recovered and Kayla was stuck in the marriage. Steve and Kayla were unable to deny their feelings for each other and began having an affair, which ended Kayla's marriage to Jack and freed them up to pursue a relationship together.
were happily in love and things were moving toward marriage when a tragedy struck. Kayla was caught in an explosion which left her with serious injuries. Kayla had lost her ability to speak and hear, and she and Steve were both forced to learn sign language as a way to communicate with one another. However, it was that situation that ended up creating an amazing and ceremony.
Steve and Kayla had a miraculous first wedding in 1988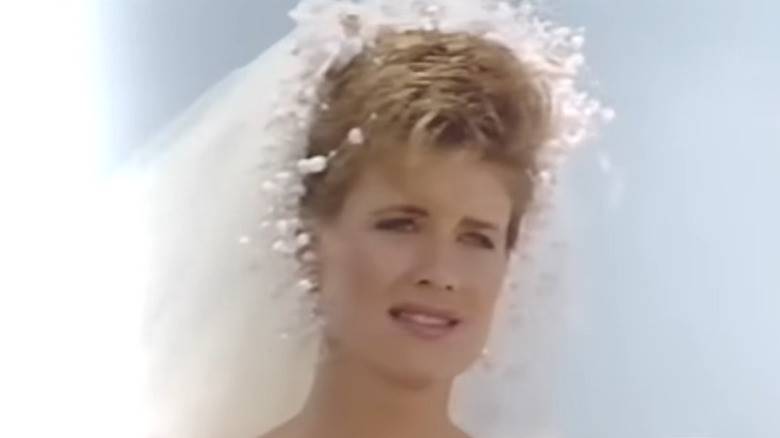 Longtime "Days of Our Lives" fans know that Steve and Kayla's first wedding was their most iconic. The couple had been through so much dealing with Kayla's injuries, and Steve was there for her through it all. He even learned sign language and proposed to his future wife by signing the lyrics to their song, "The Rose," during his proposal (via .) Eventually, Kayla agreed to walk down the aisle with Steve, but not before she had surgery to restore her hearing. The couple tied the knot in 1988 on a boat in front of their closest friends and family members, but the ceremony got even more emotional when Kayla stunned Steve and everyone else with her vows.
Kayla's speech and hearing had returned just in time for her wedding day, and she took Steve by surprise when she spoke for the first time while reciting her vows. Steve was over the moon that Kayla was able to hear and speak yet again, and fans were moved by the special moment that solidified the couple's place in Salem's super couple history.
While Steve and Kayla have had many amazing moments together over the years, their first wedding was one for the books. However, they went on to get married three more times over the years, and each one was special.
Steve and Kayla's 2017 wedding was full of love
When it comes to romantic, Steve and Kayla's 2017 wedding was full of emotion and love. "Days of Our Lives" viewers had watched the beloved couple struggle with many conflicts in their relationship through the years, such as the years that Kayla believed Steve was dead. However, in 2017, the couple decided to tie the knot for the third time in front of their friends and family. Their daughter, Stephanie Johnson, even returned home to Salem for the event, which was held on Valentine's Day. Although the ceremony wasn't as elegant or extravagant as the couple's first two marriages, it was personal and felt very romantic in nature.
"It was special because it was so intimate," actor Stephen Nichols said of the couples' nuptials (via .) "It wasn't about the surroundings or the set or anything. It wasn't about anything except us and our commitment to one another and our vows. So it just made it very focused and quiet and sweet." Meanwhile, the on-screen wedding was made even more special by the fact that Nichols and his on-screen love Mary Beth Evans were able to write some of their characters' own vows. "Stephen and I actually were lucky enough to be able to work on our vows ourselves," Evans told the outlet. "[W]e brought what we thought was important for these characters to say to each other. Stephen and I care so much about that."
Steve and Kayla's second wedding turned deadly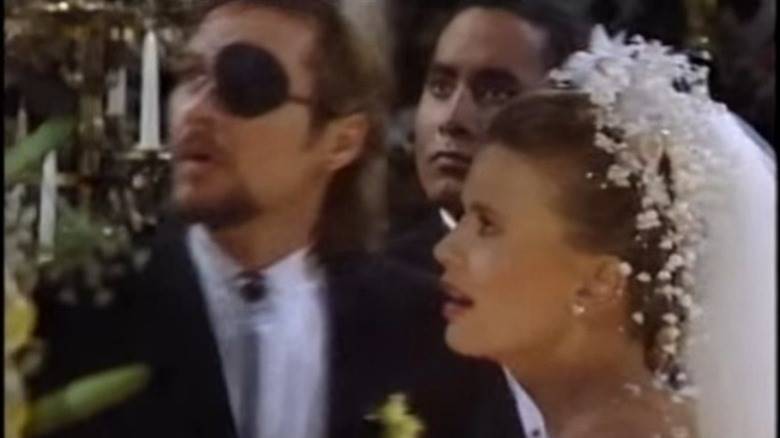 Steve and Kayla's second wedding was just as gorgeous as the first, but had so much more drama than any of their other ceremonies. The duo married in a church with their loved ones present. However, the special day was turned sour when Salem villain Harper Devereux crashed the nuptials with plans to kill Steve. Harper blamed Steve for being put in jail, so when he had the chance to escape his cell, revenge was the first thing on his mind. Harper climbed the bell tower of the church and waited to carry out his plan to shoot and kill Steve on his wedding day, per . However, Steve's half-brother and best man, Jack Deveraux, was there to save the day. Jack discovered his father's plan and confronted Harper. Jack ended up pushing Harper from the tower, killing him. Although Harper lost his life that day, Steve was saved and went on to marry the love of his life.
As the wedding continued, Steve and Kayla were also surprised by another unexpected guest, Benjy Hawk. Benjy was a young boy who the couple met and fell in love with. He was later revealed to be Stefano DiMera's son. Benjy was deaf, and because of Kayla's prior injuries, both she and Steve were able to communicate with him. He became an important part of their lives over the years, and was there to celebrate with the couple during their second wedding ceremony.
Steve and Kayla married for a fourth time in 2021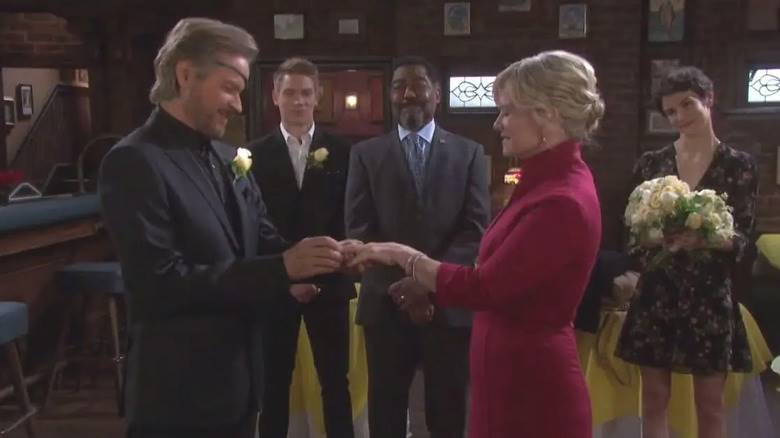 In 2021, "Days of Our Lives" viewers watched Steve and Kayla defy the odds yet again. Despite ending their marriage during a period of time when Steve was kidnapped and then brainwashed to believe that he was Stefano DiMera, the couple found their way back to one another. However, it wasn't easy. During that time, Kayla had fallen in love with Justin Kiriakis and the two even got engaged. However, just before they said their vows, Kayla knew that it wasn't right and went rushing to find Steve. The pair got back together and the following Valentine's Day they held their fourth marriage ceremony with limited guests at the Brady Pub (via .)
Steve wore all black and Kayla donned a red dress for the small and intimate ceremony. Steve's son, Tripp, served as best man, while Sarah Horton stepped in to be Kayla's maid of honor. Mayor Abe Carver performed the ceremony, and the couple made their relationship official yet again. However, the day was filled with a bit of sadness as beloved Salemite Laura Horton had recently passed away, leaving heartache for Steve's half-brother, Jack Devearux and his family members. Despite it all, Jack encouraged Steve to go through with their wedding and find happiness with Kayla again.
Could a vow renewal be in the cards for Steve and Kayla?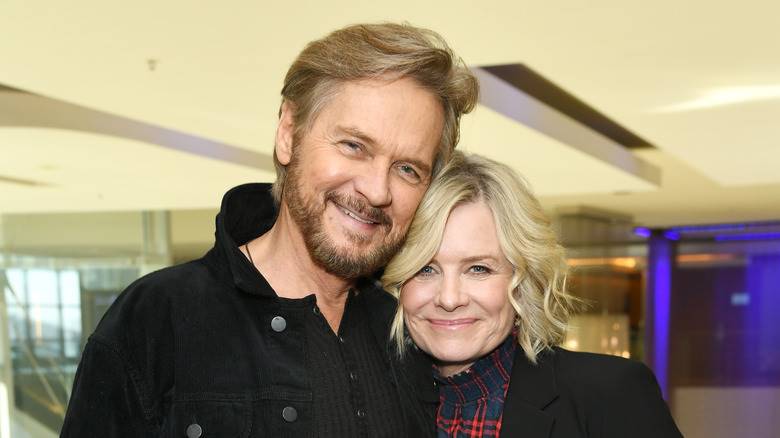 Just two years after Steve and Kayla held their fourth wedding, their lives were turned upside down. Kayla was poisoned with a toxin that left her extremely ill and when the treatment went missing she along with other "Days of Our Lives" fan favorites Marlena Evans (Deidre Hall) and Kate Roberts (Lauren Koslow) seemingly died from their illness. Steve was absolutely devastated to lose his wife again, and the family was heartbroken. However, fans soon learned that the three women weren't really dead at all. Instead, their bodies were being kept alive in a cryogenic chamber by Megan Hathaway (via .) Upon waking up from their sleep, Kayla attempted to escape and was taken hostage by her own brother, Bo Brady, who had been presumed dead for years.
Bo took Kayla prisoner in Greece, but after Steve found out that she was still alive he stopped at nothing to find her. They were eventually reunited and Steve brought Kayla home to Salem, where they resumed their daily lives with their family. Although things are great for Steve and Kayla now, soap opera fans know that new problems and drama aren't far behind. However, the couple always seems to figure out a way through it and come out the other side stronger than ever.
Although Steve and Kayla married in 2021, a vow renewal could be in the couple's future after all that they've been through.