The Young and the Restless spoilers reveal that Elena Dawson (Brytni Sarpy) makes a disturbing discovery during the week of August 28.
That might be connected to Nate Hastings' (Sean Dominic) desperately pressuring Victoria Newman (Amelia Heinle) to go on a spontaneous getaway with him.
However, there was something desperately sinister about Nate's request. Could Elena jump in to save Victoria before it's too late?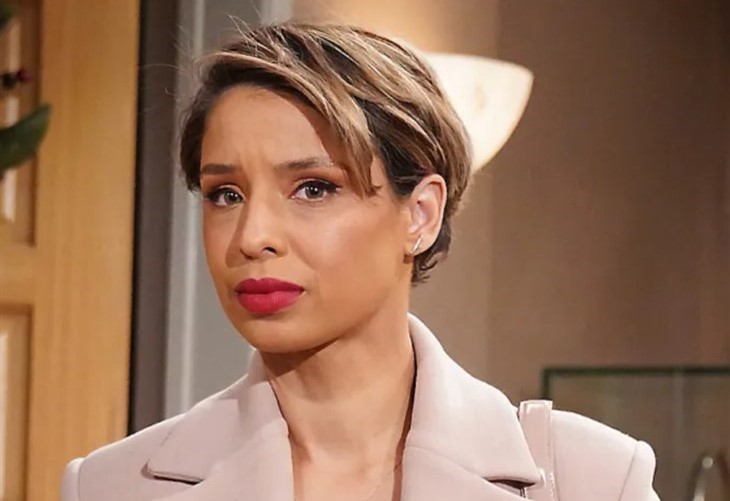 The Young And The Restless Spoilers – Victoria Newman's Doubt
Y&R spoilers reveal that Victoria found out that Nate and Audra Charles (Zuleyka Silver) were up to something.
Victoria did find out that it had to do with Adam Newman (Mark Grossman) trying to blackmail Audra. That just led Audra to ask Nate for help.
Then, Audra told Victor Newman (Eric Braeden) and Nikki Newman (Melody Thomas Scott) the truth.
Victoria confronted Nate, who didn't seem to think the deception was a big deal. Ever since then, Victoria has been going back and forth about Nate.
Y&R Spoilers – Nate Hastings' Desperation
During a recent episode, Nate walked into Victoria's office with a single, long-stemmed red rose. Nate admitted that he might be a walking cliché.
Nate explained that he wanted to move past this deception issue with Victoria.
Nate suggested that they go away together to work through their issues. Victoria wasn't so sure, but Nate pushed her.
If Victoria ends up going on this getaway with Nate, it could be a huge mistake. There was something very desperate about Nate's facial expression.
The Young And The Restless Spoilers – Elena Dawson's Disturbing Discovery
The Young and the Restless spoilers reveal that during the week of August 28, Elena makes a disturbing discovery.
Now, it doesn't mention if this disturbing discovery has to do with Nate or not. However, what else could it be?
Elena hasn't been seen much at all ever since her split with Nate. The times that Elena is seen, she always has something to say to Nate.
Y&R Spoilers – Danger & Heroism
So, could Elena's disturbing discovery be about Nate? Could it lead to Elena being an unexpected hero?
Perhaps Elena hears about Nate and Victoria's getaway. Perhaps where they are headed will spark red flags with Elena. It just might be woman's intuition, too.
Maybe Elena will get a gut feeling that something isn't right. Elena might try to shrug it off as Nate isn't her problem anymore.
Elena might not be able to, though. This could lead to Elena doing some snooping. If Elena's instincts are right, could it lead to Victoria's life being saved?
Do you think Nate will continue down his dark and deceitful path? Could it get even worse the more desperate Nate gets? Will Elena be the one to save Victoria?
Share your thoughts in the comment section below. Remember to keep watching the soap on CBS or Paramount+ to find out what happens next.
Be sure to catch up on everything happening with Y&R right now. Come back often for The Young and the Restless spoilers, news, and updates.