The Young And The Restless
The Young And The Restless Spoilers: Phyllis Takes Risky Meeting With Tucker – Will She Tell Abbott Family?
The Young and the Restless spoilers document that Phyllis Summers (Michelle Stafford) is teased to have a meeting with Tucker McCall (Trevor St. John). He is looking to build a team that takes down the Abbott family.
Tucker is stepping into the position Jeremy Stark (James Hyde) recently played. That late villain, whom Phyllis killed in self-defense, exploited the fact that she despised Diane Jenkins Abbott (Susan Walters).
Phyllis must recognize the similar method Tucker is taking and will reject his pitch if she is wise. Being that she is Phyllis, a clever game could also be played.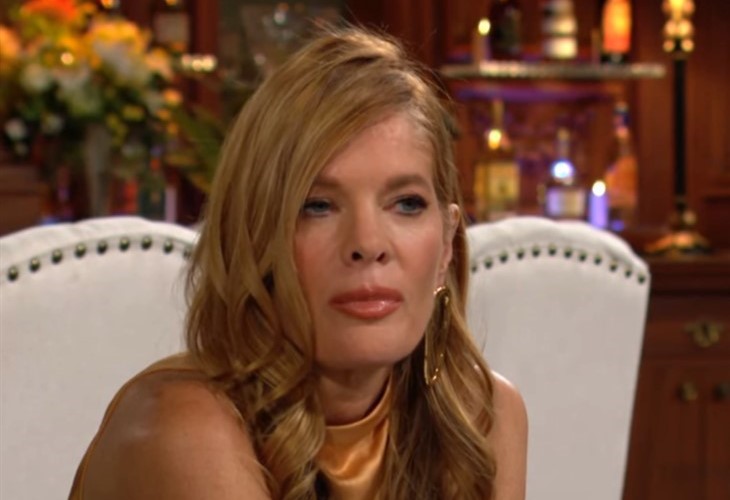 The Young And The Restless Spoilers – Standing Aside Of Jack Abbott In California
Phyllis flew to Los Angeles, California, to stand by Jack Abbott's (Peter Bergman) side as hardcore viewers recall. She did that because of the then-stunning revelation that Diane was not dead.
Diane faked her demise when the son she and Jack had was young. Kyle Abbott (Michael Mealor) had his mind permanently altered when he believed his mother died, leaving Jack to pick up the soapy pieces and serve in a dual-parent role.
Jack quickly dismissed Phyllis' loyalty after she and Diane began fighting in Genoa City, Wisconsin. That made Phyllis angry but more importantly, broke her heart.
Y&R Spoilers – Jack Abbott Believes He Is Happier Than Ever
Jack recently told Diane that he is the happiest he has ever been in his life. Phyllis and those who watched this soap during the two times she was married to Jack would disagree.
Phyllis betrayed Jack's trust on more than one occasion, which broke and then shattered his heart. The seeming reconciliation they enjoyed last year appeared to be revealed as Phyllis using Jack to play a power game with Diane.
It is arguable to suggest that Phyllis was and may still be Jack's greatest love. But it is also fair to state that Diane caused Jack infinitely more pain because of what she did to their son and him when claiming to die at the hands of Nikki Newman (Melody Thomas Scott) on that bridge in what is now Chancellor Park.
The Young And The Restless Spoilers – Tucker McCall Underestimates Phyllis Summers
Tucker believes that he can use Phyllis' plight as motivation. He wants her to help him go after Jabot.
But to do that, Phyllis would have to calculate the impact that would have on Summer Newman Abbott (Allison Lanier), who is heading Marchetti. That alone would seem to make any association with Tucker a non-starter.
However, Phyllis' creative mind and desire to redeem herself could lead to a scenario where she tries to bait Tucker like Billy Abbott (Jason Thompson) is attempting to do on Y&R.
This site is a leading source for everything linked to The Young and the Restless. Check back regularly for Y&R spoilers and news!
For more about what's happening on your favorite soaps and more ways to connect with us, join the conversation on our Facebook Page, check out our Twitter feed, look for an update on our Instagram, follow us on Threads , Always stay up-to-date with us on Google News, or drop us an e-mail HERE! See you there!