News
Whoopi Goldberg Clashes With Producer After She Claims 'American Idol' Led To 'Downfall Of Society'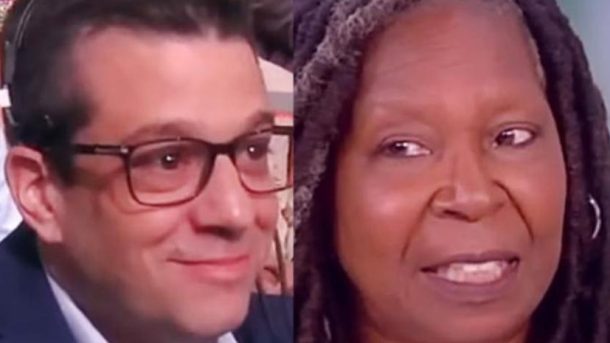 Whoopi Goldberg was scolded by a producer after claiming that "American Idol" led to the "downfall of society."
Whoopi Goldberg launched a mas-sive attack on "American Idol" on Thursday morning, only to be reminded by her producer that it airs on ABC, just like her own talk show "The View."
Goldberg Bashes 'American Idol'
During a segment about the recent Anna Nicole Smith documentary You Don't Know Me, Goldberg shifted the conversation to the obsession that society has with judging others.
"I think, you know, that we as a society love to watch stuff, to judge folks," Goldberg said, according to The New York Post. "I've always thought that the beginning of the downfall of society was with… what's the name of that show?"
"That's ABC's 'American Idol,'" producer Brian Teta could be heard saying from off-camera.
"It was not always on ABC. When it began, it was on another network," Goldberg tried to clarify, only to then double down on her views on the show.
"Once we gave people the ability to judge other people, I think we ran amok… They invite the public to decide who that person was," she stated. "It began us in a cycle."
Whoopi Goldberg walks back claim 'American Idol' began 'downfall of society'
Whoopi Goldberg is having to take back her view. "The View" co-host was pushed to walk back her claim that "American Idol" was the "beginning of the downfall of society." The 67-year-old made the b… pic.twitter.com/gSmzumFB7L

— Dr.LyndaBarnes (@MrsBarnesII) May 25, 2023
Teta Tries To Stop Goldberg
Teta then made a mysterious hand gesture to Goldberg from off camera that prompted her to snap at him and say, "Did you really just do that?"
"One last thing is that we've talked about this and it's gotten better and you like it now … Remember?" Teta asked her, clearly trying to save face with the network.
The audience burst out laughing as co-host Sunny Hostin stared straight into the camera and said, "She likes it ABC. She loves it."
Goldberg concluded by saying that when she was watching the show, "ABC didn't have it."
"They have it now. It's a different show. The judges are different with the people who are coming," she said. "ABC knows that I feel like this. I've told them. It had nothing to do with them. It had to do with the show."
"See? You starting stuff, man!" she added, looking at Teta.
"American Idol" originally aired on Fox from 2002 until it went off the air in 2016. It was picked up by ABC in 2018, and has been airing on that network ever since. Meanwhile, "The View" has been airing on ABC ever since it premiered back in 1997.
Check out the entire awkward exchange on "The View" in the video below.
Goldberg On Thin Ice At ABC
It's no wonder that Teta went all out in trying to stop Goldberg's rant against "American Idol," given the fact that she's been on thin ice with ABC executives for quite some time now. Last year, she was suspended from "The View" for two weeks after saying that "the Holocaust isn't about race" on an episode of the ABC talk show.
Though she issued a groveling apology after making those comments, she proceeded to double down on them in a December interview.
"My best friend said, 'Not for nothing is there no box on the census for the Jewish race.' So that leads me to believe that we're probably not a race," Goldberg told The Times of London back in December.
"It wasn't originally" about race, she continued, according to NBC News. "Remember who they were killing first. They were not killing racial; they were killing physical. They were killing people they considered to be mentally defective. And then they made this decision."
Though she apologized again after this slip up, many feel that this apology is not enough, and ABC executives have been under constant pressure to fire her in the months since. While the higher-ups at ABC have had Goldberg's back thus far, they may change their minds about her, should she continue attacking their programming.