Days of our Lives
Days Of Our Lives Preview Week Of July 24: 'Stabi' Wedding, Dimitri's Bomb, Paternity Secret Exposed
SDays of Our Lives spoilers for the week of July 24 reveal that the preview clip features Stefan DiMera (Brandon Barash) and Gabi Hernandez's (Camila Banus) wedding day.
Dimitri von Leuschner (Peter Porte) drops a bomb. Plus, Sloan Petersen's (Jessica Serfaty) paternity secret is exposed. Elsewhere, EJ DiMera (Dan Feuerriegel) and Nicole Walker (Arianne Zucker) begin getting answers.
'Stabi' Wedding
DOOL spoilers for the week of July 24 reveal that Stefan and Gabi's wedding day will arrive. Gabi will be full of excitement. Jumping up and down in her wedding dress, Gabi gushes about finally marrying her soulmate… again.
Meanwhile, Stefan anxiously waits for his bride. With EJ standing by his side, Stefan tells Dimitri that he is getting married that day. That is when Dimitri has an announcement of his own.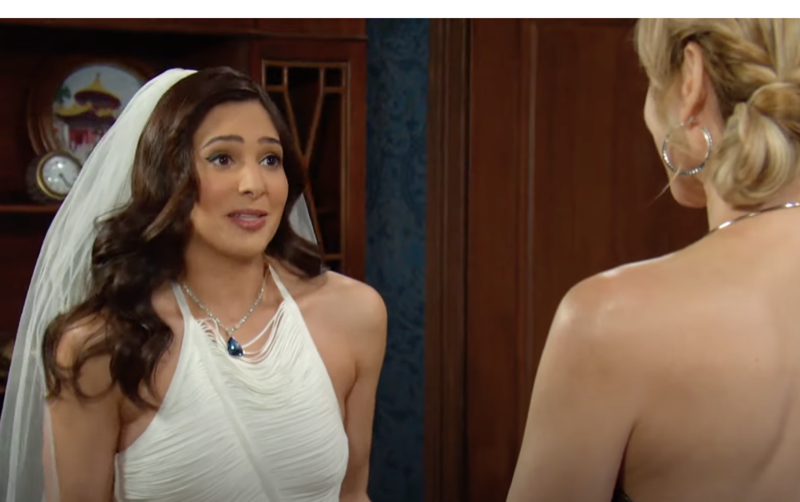 DOOL Spoilers: Dimitri von Leuschner's Bomb
During the week of July 24, fans can expect Dimitri to tell EJ and Stefan that he is also getting married that day. Meanwhile, Gwen Rizczech (Emily O'Brien) tries to convince herself that Dimitri loves her. However, fans know that Leo Stark (Greg Rikaart) is keeping a huge secret and it's about to blow sky-high.
EJ DiMera's Examination
Days of Our Lives spoilers for the week of July 24 reveal that EJ and Nicole will visit a baby specialist. During the upcoming visit, the doctor says she wants to test EJ. Now, EJ's mouth drops in surprise. So, whatever test the doctor orders could change everything for EJ and Nicole as well as Eric Brady (Greg Vaughan).
Wedding Bells and more! #Days #DaysofourLives on Peacock! pic.twitter.com/jEwoTmlAjc

— Days of our Lives (@DaysPeacock) July 21, 2023
It seems that the baby specialist will want to be sure of something. Sometimes, just verifying paternity can solve a medical mystery. Other times, it can complicate things…, especially in Nicole's case!
Days of Our Lives Spoilers: Week of July 24
The weekly preview clip also features Eric and Sloan. While EJ and Nicole could get another paternity test shocker, Eric learns the truth about Sloan's actions.
As Sloan stands with tears welling up in her eyes and lips trembling, Eric explodes. So, what is Sloan going to do now and how will Eric deal with the aftermath?
Which storyline are you looking forward to seeing the most during the week of July 24? What are your predictions for Eric, Sloan, Nicole, EJ, Li Shin (Remington Hoffman), Melinda Trask (Tina Huang), Rafe Hernandez (Galen Gering) and Jada Hunter (Elia Cantu)?
What does the future hold for Dimitri, Gwen, Leo, Stefan, Gabi and the other residents of Salem? Share your thoughts in the comment section below. Remember to keep watching the soap on Peacock to find out what happens next.
Be sure to catch up on everything happening with DOOL right now. Come back often for Days of Our Lives spoilers, news, and updates.