Days of our Lives
Days Of Our Lives Spoilers: Leo And Dimitri's Affair Brings Tragedy And Suspicion!
Days of Our Lives spoilers tease that Gwen Rizczech (Emily O'Brien) believes that she is going on the honeymoon of her dreams with her new husband Dimitri Von Leuschner (Peter Porte).
She said an emotional goodbye to best friend Leo Stark (Greg Rikaart) before leaving for Iceland. Of course, Gwen has no idea that Leo will be much closer than she knows.
As viewer know, Dimitri only married Gwen to secure his inheritance which he could only receive if he was happily married by the age of 40.
As Dimitri's birthday approached, he pretended to fall madly in love with Gwen, who he had only just met.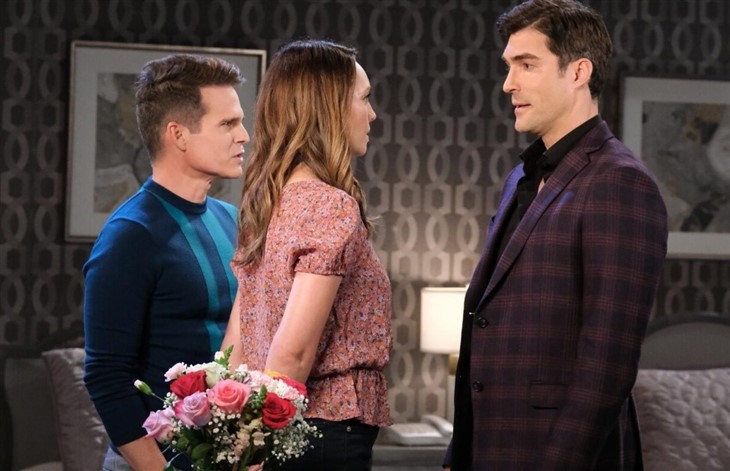 Days Of Our Lives Spoilers – Dimitri Von Leuschner Has A Secret!
But Dimitri is gay, and it was Leo that Dimitri was attracted to. When Leo discovered that Dimitri was using his best friend, they had a confrontation.
Leo told Dimitri that he was going to tell Gwen that Dimitri was only using her to get an inheritance before she married a man who didn't love her.
Dimitri then shocked Leo by kissing him passionately. He promised that Gwen would become a very rich woman, but only after they had been married for year.
But Leo knew that Gwen would be hurt regardless and he wanted to protect her from that kind of pain.
DOOL Spoilers – Leo Stark Is Torn Between Friendship And Love!
Dimitri continues to charm Leo, and the two of them ended up in bed together. But Leo's guilt continued to eat at him, and he almost revealed the truth during the wedding ceremony.
But he stopped himself and the wedding went off without any other interruption. Dimitri and Leo continue their affair and then Dimitri gave Leo a plane ticket to Iceland as well so they could still see each other during the honeymoon!
Days Of Our Lives Spoilers – Someone Isn't Coming Home From Iceland!
Things will certainly come to a head in Iceland. Dimitri will only be able to make so many excuses before Gwen realizes something fishy is going on.
Gwen will discover her husband in bed with her best friend. It will be a brutal encounter before the three of them go their separate ways. But Leo will follow Gwen but will soon lose her.
Sick with guilt, Leo will feel even worse as Gwen disappears mysteriously. Leo will be convinced that Dimitri killed Gwen and determined to prove it. But if Dimitri did kill Gwen, he could very possibly be next!
DOOL Spoilers – What Do You Think?
Will Gwen catch on to Dimitri's lies? How will she react to Leo and Dimitri's betrayal? Will Gwen take her own life or is there something even more sinister going on?
Anything can happen in Salem so stay tuned to Days of Our Lives streaming every weekday on Peacock. And don't forget to check back right here regularly for all your Days of Our Lives news, information and spoilers!