News
Steve Harvey Will Be a Grandpa Again – Grandkids Give Him Reason to 'Wake Up' after Homeless Life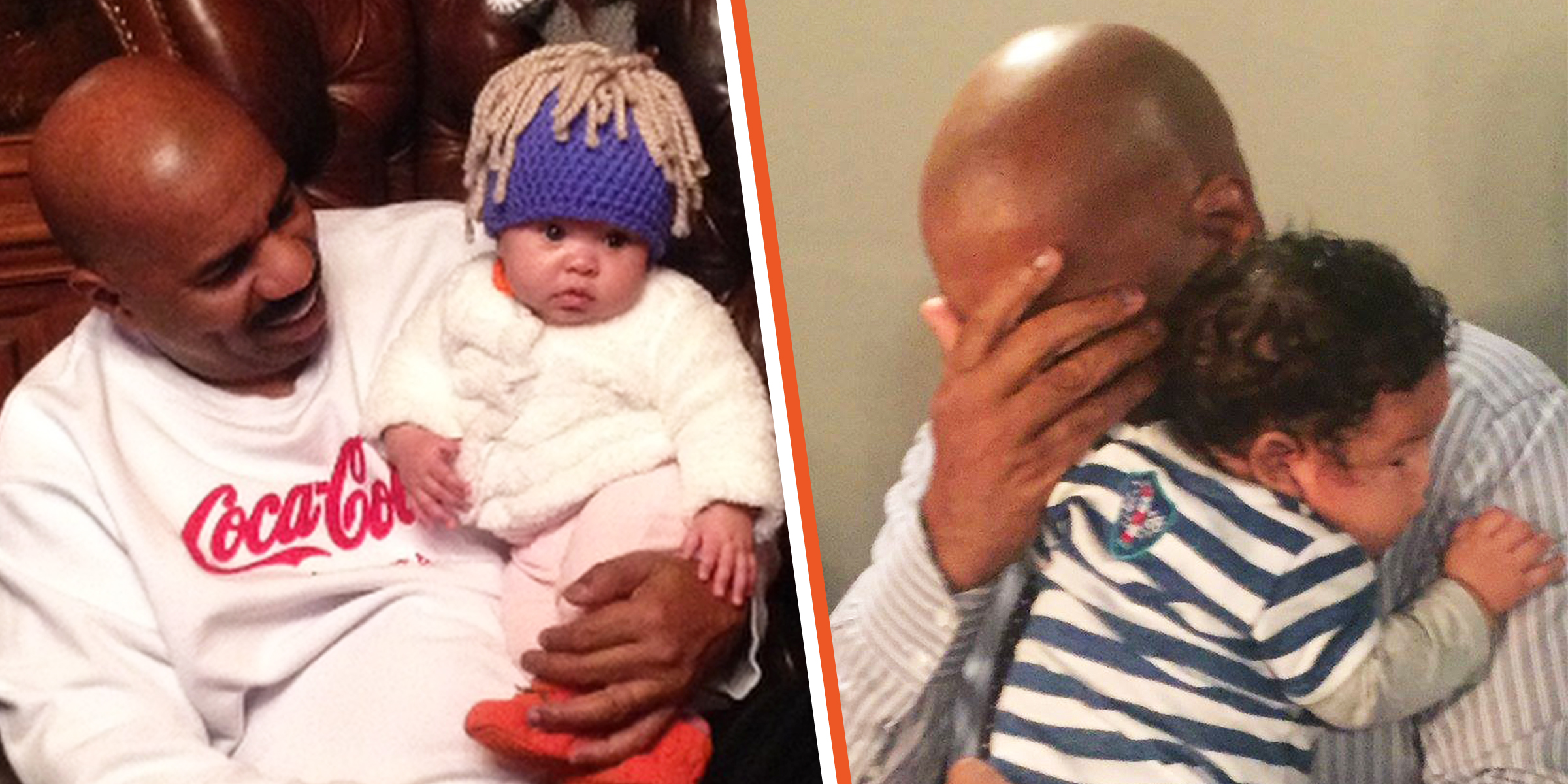 Steve Harvey was homeless and lived in his car before he built his $100 million empire.
Harvey and his wife have seven grandkids, who the actor spoils and loves to spend time with.
The TV host and Marjorie Elaine Harvey are looking forward to welcoming their 8th grandchild.
Steve Harvey has an empire estimated at $100 million. However, before he could get these riches, Harvey went through difficult times, including being homeless and poor.
The American TV host opened up about his transformational journey and success, which he attributed to trusting God, integrity, hard work, ingenuity, and never giving up.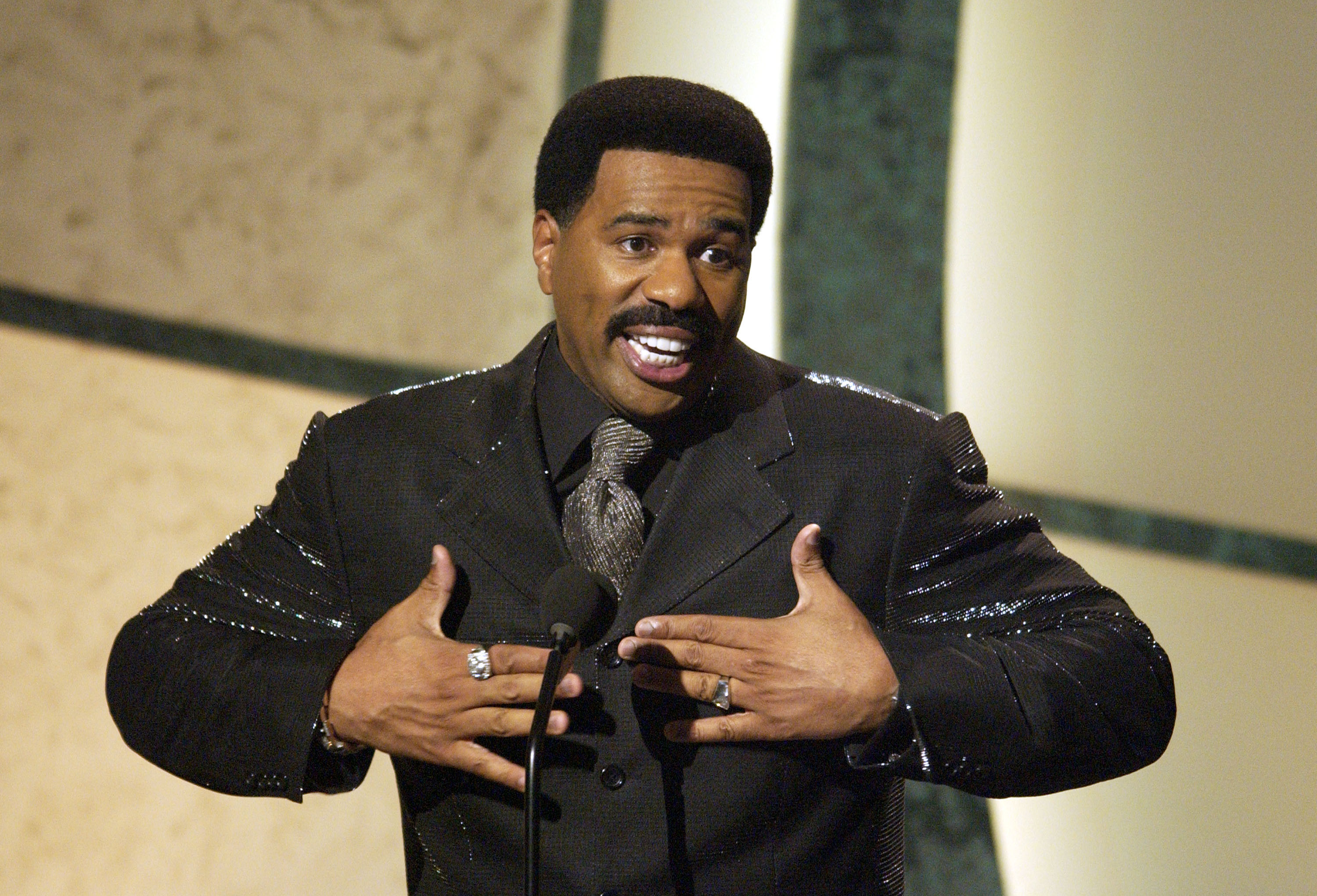 Steve Harvey in Hollywood, California on June 25, 2002 | Source: Getty Images
Harvey was born in a coal mining town in Welsh, West Virginia, where he grew up with his four siblings. Their father was a coal miner who earned $5 a day.
The "Family Feud" host had to work at his uncle and grandfather's farm until he was 16. "I grew up very poor; I flunked out of school," he confessed.
Despite these difficulties, Harvey had set his mind on a goal ever since he was young. He said that when he was 10, he wrote on a piece of paper that one day, he would be on TV. However, before he got there, the TV host had to be patient and resilient.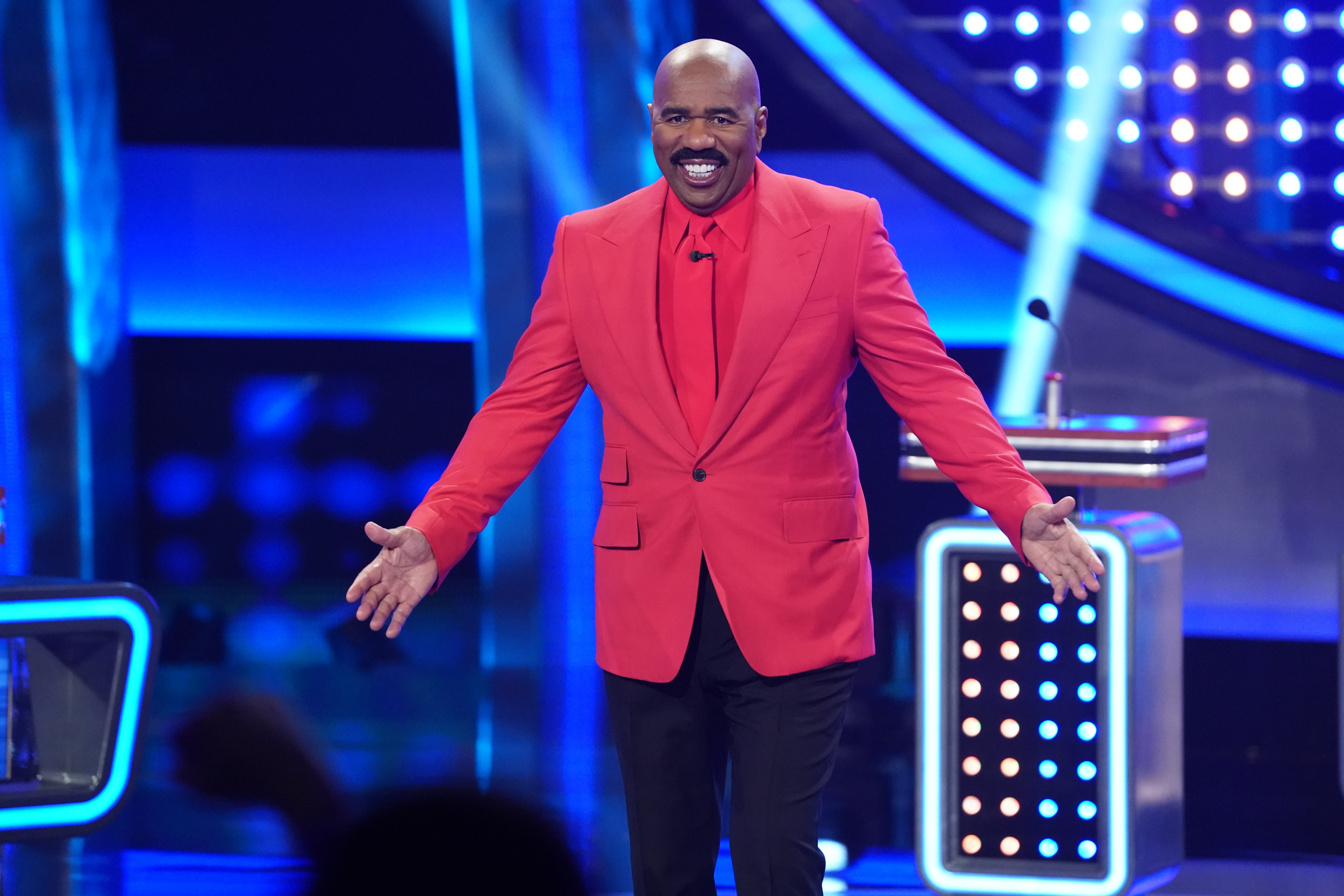 Steve Harvey on "Celebrity Family Feud" on June 26, 2021 | Source: Getty Images
Harvey revealed that when he quit his job as an adult to pursue a career in comedy, he and his wife separated. The TV host became homeless and lived in his Ford Tempo. At this time, he was living on only $50 a week.
The comedian went through several low periods and was tempted to give up. He recalled hiding in a hotel restroom to wash up, breaking down, and feeling so devastated:
"…but a voice said, 'If you keep going, I'm going to take you places you've never been. It was like God said, 'Don't quit, you're almost there."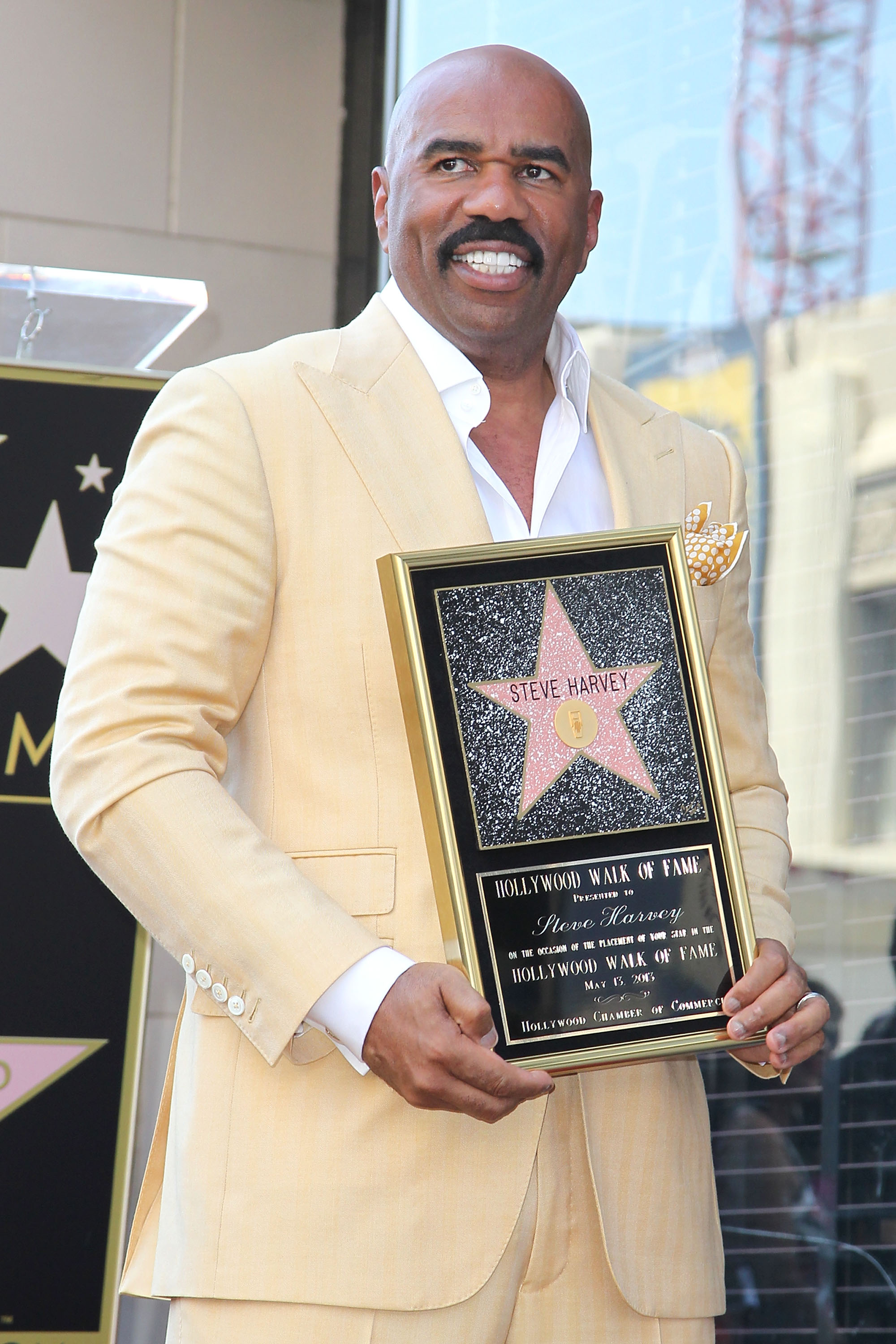 Steve Harvey in Hollywood, California on May 13, 2013 | Source: Getty Images
In 2022, Harvey revealed in a tweet more of his struggles. He said he became a comedian at 27 but was homeless from the age of 30 to 33, a period where he lived in his car. However, Harvey said he depended on God's plan for his life to see him through to where he was today:
"Don't give up on your dreams. People see me today, they don't know where I come from. I tell young cats all the time, the key is you can't ever give up… I'm telling you, you have a great life in front of you."
Eventually, Harvey's struggles paid off. At 38, Harvey got his first TV Job and bought the first car registered to his name. Up to this point, all the cars he had were used cars that his dad gave him. Today, he is a successful comedian and TV host, hosting many popular shows, including "The Steve Harvey Morning Show."
 

Xem bài viết này trên Instagram

 
Harvey also found love in Marjorie Elaine Harvey, and the two have a happy marriage and family life. Even with his success in his personal and professional life, the TV host said he would continue working hard. Harvey now has 12 jobs and works tirelessly because he never wants to be homeless again.
How Does Steve Harvey Feel about His Seven Grandkids?
Harvey has been blessed with a big and beautiful family. In 2017, he posed with most of them during a tropical trip. In the picture, the TV host and his wife, Marjorie, were all smiles.
Amanda Harvey, the wife of Harvey's adopted son, Jason Harvey, is pregnant. Amanda posted a series of pictures on Instagram announcing her pregnancy.
The "Family Feud" host has four biological kids. His kids Brandi, Karli, and Broderick are from his first marriage, while Wynton is from his second. Harvey adopted Marjorie's three kids when they got married in 2007. These are Morgan, Jason, and Lori.
The TV host is a family man who once said that his family is the reason why he works so hard because he wants to leave them a legacy and make the world a better place for them. In 2020, Harvey revealed that he was now a grandfather to seven grandkids.
An excited Harvey spoke about the relationship he has with his grandkids. He said he loves to spend time with them and hug them. Harvey joked that that's all he does because whenever the grandkids say they are hungry or want to do something, he asks them to go get their mom, dad, or grandmother.
However, the TV host said his grandkids love him because he gives them things they can't be given by their mom or dad. Harvey said he gives them meat and candy, which the grandkids can't have at home because their parents are vegan and due to religious and health reasons.
Harvey also jokingly said that as much as his wife loves being a grandmother, he doesn't like being a grandfather at all. He noted that sometimes his kids drop the grandkids at his and Marjorie's home for sleepovers, and he makes them breakfast in the morning.
 

Xem bài viết này trên Instagram

 
Despite his hilarious comments about not liking the roles of a grandparent, Harvey adores his grandkids. When he welcomed his granddaughter Rose in 2014, Harvey posted lots of videos and pictures of having fun with her.
In one video, the TV host enjoyed quality time with Rose, who was giggling and giving him baby kisses. Harvey confessed that he spent most of his time with Rose when she was born. He even attempted to sing her nursery rhymes, but they came out mixed up because he didn't know any.
In 2017, Harvey also shared a cute picture of his grandchild and said his grandchildren "are the reason why I wake up every morning and do what I do." Now, Harvey is about to be blessed with another grandbaby.
 

Xem bài viết này trên Instagram

 
Steve Harvey's 8th Grandbaby Is on the Way!
Amanda Harvey, the wife of Harvey's adopted son, Jason Harvey, is pregnant. Amanda posted a series of pictures on Instagram announcing her pregnancy. This baby on the way is Harvey's 8th grandbaby.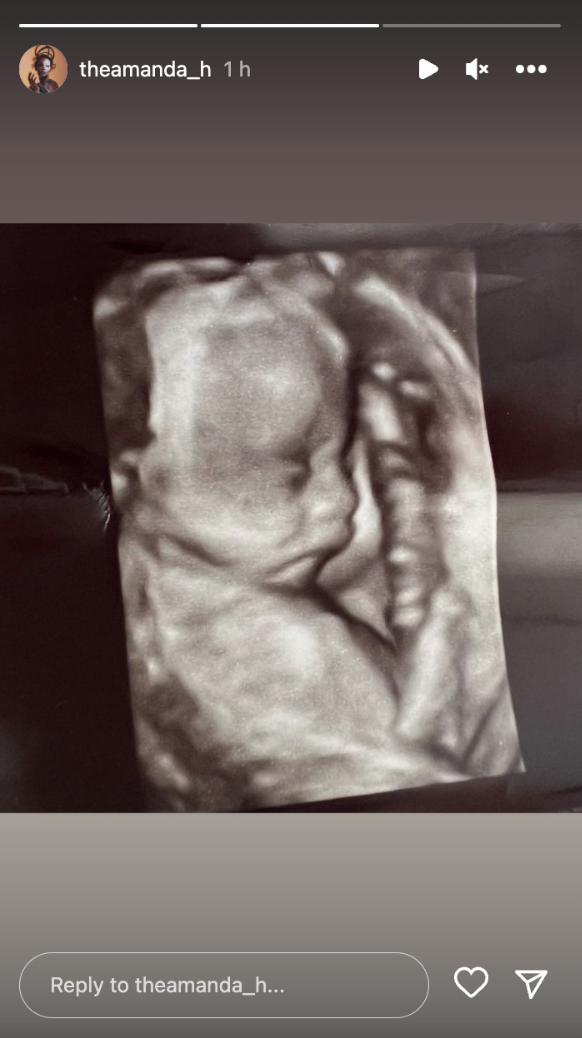 Steve Harvey's 8th Grandchild on scan | Source: instagram.com/theamanda_h
In the pictures Amanda shared, she showed off her baby bump, posed with her other kids and her husband, and captioned the post, "The Bible says be fruitful right? 😂 Baby #5 is due in October 😆❤️🥰." Amanda also shared a picture of her pregnancy scan on her Instagram stories.
 

Xem bài viết này trên Instagram

 
Marjorie, who Harvey said loves being a grandmother, responded to the post with love emojis. Harvey and Marjorie's family keeps growing, and the two, who enjoy being grandparents, will soon be relishing in the joy and love of their 8th grandchild.