B&B
The Bold And The Beautiful Spoilers: Brooke Logan Created A Monster
The Bold and the Beautiful spoilers tease this week on the soap, Brooke Logan (Katherine Kelly Lang) will make a horrific discovery.  No mom wants to ever walk in on their daughter with her pants down at work.  But, the fact that Hope is busted with Thomas Forrester (Matthew Atkinson) only adds insult to injury.
Long time The Bold and the Beautiful fans have been shocked by Hope Logan's (Annika Noelle) drastic changes over the past six months.  Hope's lying, cheating, sneaking around, and steamy bedroom romps are totally out of character for her.  But, they remind us of someone else we know all too well.
The Bold And The Beautiful Spoilers – Hope Logan Follows In Brooke Logan's Footsteps?
You have to admit, Hope sure has been acting real Brook-ish lately.  The Hope For The Future mogul has been compared to her mother an awful lot of social media and The Bold and the Beautiful forums after her steamy hook-ups.  Like mother, like daughter?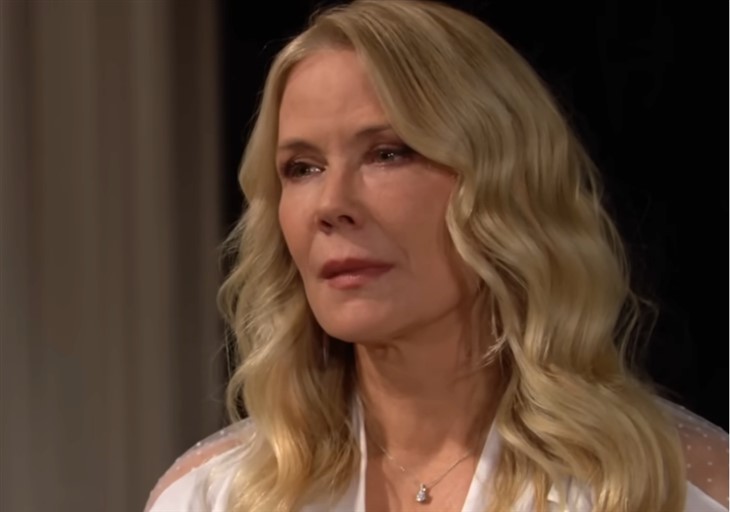 According to B&B spoilers, Brooke Logan gets an eye full when she stops by her daughter's office at Forrester Creations and she is "meeting" with her designer Thomas.  And, Brooke blows her top.  Can she really be mad at her daughter though?
B&B Spoilers – Brooke Logan Tries To Ban Hope Logn From Seeing Thomas Forrester
Since Hope Logan was a little girl on The Bold and the Beautiful, she has watched her mother hop from man to man, and has had multiple baby-daddies.
Did Brooke really think her daughter was going to make smart decisions in the romance department after she watched her juggle Ridge, Eric, Thorne, Deacon, and way too many more men to even list?
Brooke Logan attempts to lay down the law and ban her daughter from seeing Thomas, but that will only drive a wedge between the mother and daughter.
Hope will most likely accuse her mom of having a problem with her sleeping with her future step-brother and advise her mother to leave Ridge instead if it is a problem.
Do you think Brooke is a total hypocrite, is she the real reason here daughter is making a mess of her personal life?
Let us know what you think in the comments below and keep checking back here for more B&B spoilers, news, and updates.
For more about what's happening on your favorite soaps and more ways to connect with us, join the conversation on our Facebook Page, check out our Twitter feed, look for an update on our Instagram, follow us on Threads , Always stay up-to-date with us on Google News, or drop us an e-mail HERE! See you there!