B&B
B&B Spoilers: Li Slams Luna's Aunt For Having Affair With Doctor
According to the Bold and the Beautiful (B&B) spoilers, Li Finnegan (Naomi Matsuda) slammed Luna's (Lisa Yamada) aunt for having an affair with a doctor. This has fans wondering which doctor she's talking about. Many theories are floating around already. Keep on reading to learn more.
The Bold And The Beautiful Spoilers – Li Finnegan Takes Her Anger Out On Luna Nozawa
The Bold and the Beautiful spoilers reveal that Li took her anger out on Luna. On the Tuesday, October 10 episode, she was surprised to see Luna at Forrester Creations.
She asked her what she was doing there. Luna confessed to taking on an intern position and wanting to work with the Forresters.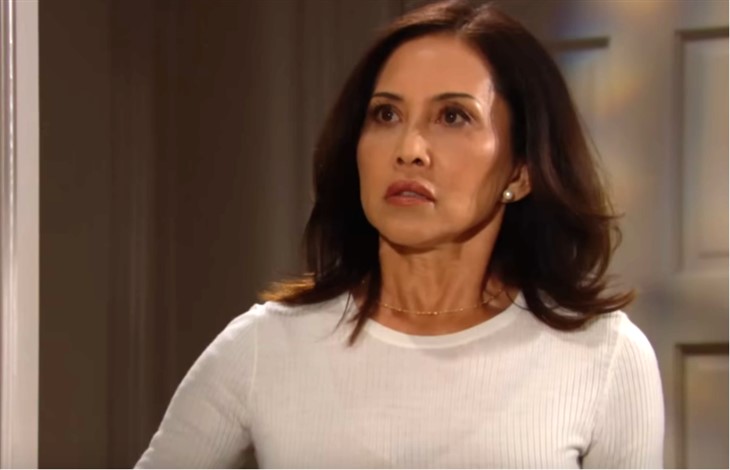 Li warned Luna to stay away from the family. She doesn't want to see what happened with her sister Poppy (Roma Park). Li took her anger out on Luna. She talked about Poppy's affair with a mystery doctor. She also told Luna that she wouldn't allow her to work there.
The user Terileeh posted on the SoapCentral.com Message Boards: "Here comes Li flying in on her broomstick screaming I WON'T ALLOW IT! (I thought Brooke had a trademark on that) to her obviously insecure and broken-down niece."
B&B fans took to the thread to share their thoughts on that very scene. They want to know why Li is taking her anger out on Luna. It shows this family has an interesting way of expressing themselves. They're also not the happy family they portrayed themselves to be.
"I was thinking the exact same thing. Whatever happened between Li and her sister is between them, why take it out on her young niece who like you said, is just trying to find her way in the world?" one fan wrote.
READ THIS: Find out what happens next on The Bold and The Beautiful.
B&B Spoilers- Who's The Doctor?
The Bold and the Beautiful spoilers hint at the details of the mystery doctor. It's clear that neither Li nor Poppy are happy about Luna arriving in Los Angeles to work with the Forresters. Both of them demanded that she resign from her position.
The spoilers suggest that Luna could be Finn's daughter. It's likely that Poppy had a fling with Finn and Luna is his daughter. It might not know the truth about his adopted cousin. That could be the real reason why Li and Poppy are trying to keep Luna away from Los Angeles.
What are your thoughts? Who's the doctor? What do you think of Li slamming Luna's aunt for having an affair? Sound off below in the comment section.
As always, check back for more B&B spoilers, news, and updates.
For more about what's happening on your favorite soaps and more ways to connect with us, join the conversation on our Facebook Page, check out our Twitter feed, look for an update on our Instagram, follow us on Threads , Always stay up-to-date with us on Google News, or drop us an e-mail HERE! See you there!