Young and the Restless (Y&R) spoilers suggest that Victoria Newman (Amelia Heinle) is about to see Nate Hastings's (Sean Dominic) true colors shine.
But will she be devastated when she learns he's been co-conspiring with Audra Charles (Zulekya Silver) or fluff it off as she's come to expect not to trust men? After all, she recently admitted she was not in love with the ex-doctor.
Vicky hasn't been able to successfully carry out a healthy and non-toxic relationship since she broke up with Billy Abbott (Jason Thompson). Is he the one that "got away" for her?
The Young And The Restless Spoilers – The Exes Share A Moment
Y&R spoilers reveal that Billy and Vic will share a tender moment the week of August 14th. Thankfully for their children, Abbott and Newman have been amazing at co-parenting their kiddos, and they are on the same page about a lot of issues. They still genuinely care about each other, even though they aren't "in love".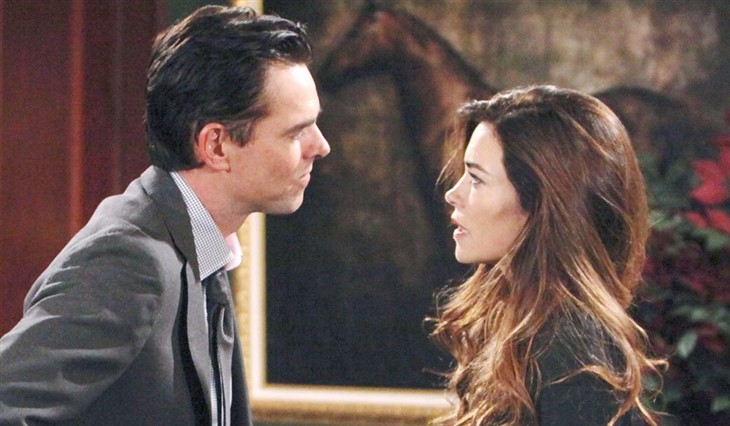 But what was the reason they broke up and stayed broken up, all those years ago? For fans that recall, Victor Newman (Eric Braeden) was why Villy separated, and a lie that a moment was shared between him, and then-newcomer Amanda Sinclair (Mishael Morgan) blew their romance to smithereens.
READ THIS:Find out what happens next on The Young and the Restless.
Sadly, they were never able to get back on track, despite both of them wanting to.
The Moustache was never a fan of Billy, and now the feeling is mutual. With that said, seeing as Vic has "given up" on love, would her father finally let go of this vendetta if he saw how happy Billy makes her?
Y&R Spoilers – Is Vic Newman's Billy Abbott's One True Love?
Billy made an interesting pair with Lily Winters (Christel Khalil), although she's moved on to her former ex, Daniel Romalotti (Michael Graziadei).
Right now, Billy-boy is with Chelsea Lawson (Melissa Claire Egan), and while the two have a ton of history and an incredible friendship, they don't really have that much chemistry as a couple.
Could Y&R writers give Villy one more shot? Especially since Chelsea may exit for a little bit, due to actress Melissa Claire Egan's maternity leave.
Are Villy meant to be together? Leave your thoughts below. Watch the popular CBS soap daily to see what happens next and visit this site regularly for the best Young and the Restless news, updates, and spoilers.
For more about what's happening on your favorite soaps and more ways to connect with us, join the conversation on our Facebook Page, check out our Twitter feed, look for an update on our Instagram, follow us on Threads , Always stay up-to-date with us on Google News, or drop us an e-mail HERE! See you there!