inspirational story
Dad Interrupts Daughter's Wedding & Dashes to Another Man to Grab Him Out of His Seat — Guests Were Surprised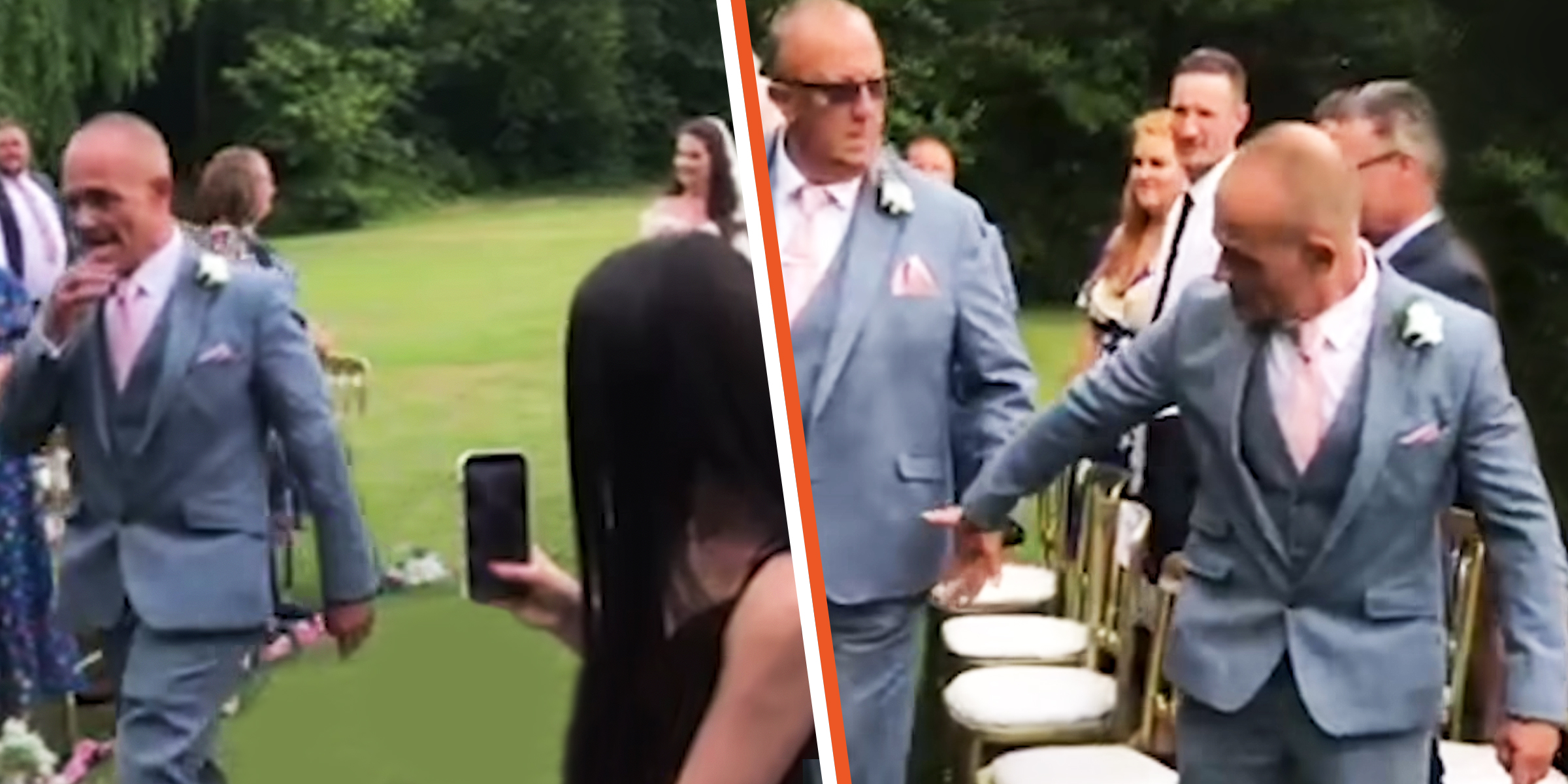 Before a bride could walk down the aisle with her father, he darted towards a man sitting in one of the front rows. The other guests were surprised to see him pull the man out of his seat.
Most women dream of walking down the aisle wearing a beautiful white gown. They want everything to be perfect on their big day, including their makeup, hairdo, and venue setup.
Like other brides, the woman in today's story, Amy Walkinshaw, was excited to start a new chapter of her life. She wore a stunning off-shoulder wedding gown paired with bold red lips on her big day, where her friends and family had gathered to celebrate her happiness.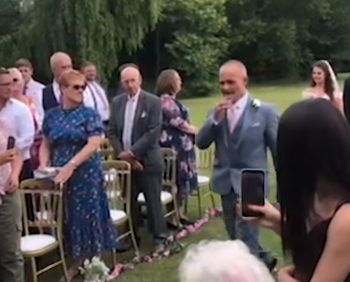 Amy Walkinshaw and Andy Collins with the guests at the wedding | Source: Facebook.com/Tyla
The 31-year-old bride was standing with her father, Andy Collins, all set to walk down the aisle, when her father interrupted the moment. The 58-year-old man, a train driver, left his daughter's side and darted toward her stepfather, Jeff Bennett. He grabbed Bennett's hand and led him to the bride's side so they could walk her down the aisle together.
Amy, a psychodynamic practice student, always wanted both men to give her away on her big day, as she wed Ryan Walkinshaw. She had asked her father if Bennett could join him and was delighted when he immediately agreed to share the limelight with her stepfather that day.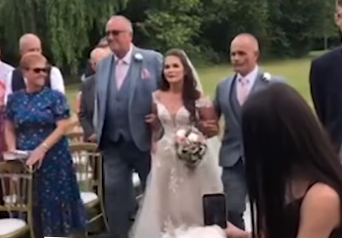 Andy Collins, Amy Walkinshaw, and Jeff Bennett at the wedding | Source: Facebook.com/Tyla
"Jeff didn't know it was coming either – you can tell in the video the shock on Jeff's face. I knew how much it meant to him," Amy said, referring to the video where she was seen escorted by the two important men in her life.
Amy was introduced to her stepfather 20 years ago and has shared a special bond with him since then. She appreciated the 64-year-old's presence in her life, but her biological father wasn't friends with him.
The bride highlighted that despite not being close, her father didn't think twice about allowing Bennett to walk his daughter down the aisle too. "The main thing come out of it is to show there doesn't have to be animosity," she said.
How Did the Guests React?
At first, the guests were surprised to see Collins walk away from his daughter, but they understood what was happening when they saw him hold Bennett's hand. They smiled as the two men walked towards the bride.
Everyone was happy to watch the two men give away their daughter. The emotional moment was filmed and shared on the internet, where netizens witnessed how certain relationships can coexist without rifts.
Amy felt delighted to share her special moment with her biological father and stepfather. She couldn't have asked for a better way to start the new chapter of her life.
Click here to read another story about a father who refused to pay for his daughter's wedding because she didn't want him to walk her down the aisle.