Days of our Lives
Days Of Our Lives Spoilers: Baby Weaponized, Brady's Leverage To End Chloe & Xander's Romance?
Days of Our Lives spoilers reveal that Brady Black (Eric Martsolf) could find out about Sarah Horton's (Linsey Godfrey) paternity secret.
If Brady does, could he use this as leverage in order to split up Xander Cook (Paul Telfer) and Chloe Lane (Nadia Bjorlin)?
How will this complicate Brady's dynamics with the other characters? Could this mark a turning point in Brady's character evolution?
Days Of Our Lives Spoilers – Sarah Horton's Baby Secret
DOOL spoilers reveal that Sarah found out she was pregnant after Xander's crimes were exposed. Sarah became terrified of her husband and filed for divorce.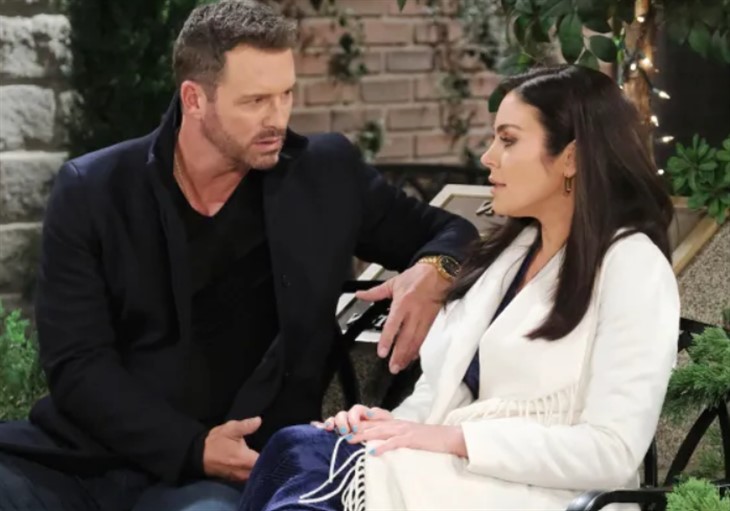 Sarah also pounced on Rex Brady (Kyle Lowder). Soon afterward, Sarah learned that she was pregnant with Xander's baby.
For a long time, only Sarah and Rex knew the truth. Then, Bonnie Lockhart Kiriakis (Judi Evans) found out, which led to her telling Justin Kiriakis (Wally Kurth).
Next, Maggie Horton Kiriakis (Suzanne Rogers) learned about Sarah's pregnancy and paternity secret.
DOOL Spoilers – Chloe Lane Torn
Over with Xander, he has tried to move on from Sarah with Chloe. While Xander and Chloe are an item, the semi-reformed villain's thoughts are usually on Sarah.
Soon, Xander and Sarah will face each other again. Sarah will have a huge baby bump and will probably hope that Xander assumes the child belongs to Rex.
While Xander might initially accept Sarah's lie, Chloe will find herself torn. On one hand, Chloe is enjoying her time with Xander.
READ THIS: Find out what happens next on Days Of Our Lives.
On the other hand, Chloe feels connected to Brady despite Kristen DiMera (Stacy Haiduk) and Rachel Black's (Finley Rose Slater) attempts to keep the couple apart.
Days Of Our Lives Spoilers – Brady Black's Discovery
Days of Our Lives spoilers reveal that if Xander runs into Sarah, then the pregnant doctor must return to Salem.
This is probably due to Sarah feeling compelled to pay her respects after Victor Kiriakis' (John Aniston) death. Sarah might also learn that Maggie is falling apart from grief. So, Sarah could risk exposure to help support her mother.
At some point, Brady might figure out that Sarah is pregnant with Xander's baby. Now, under normal circumstances, Brady probably wouldn't say a thing. After all, Xander and Brady hate each other.
At the same time, Brady knows what it feels like to be deceived about paternity and all that missed time. Brady and Kristen went through it through Sarah's baby switch storyline.
DOOL Spoilers – Broken Pairings Fixed?
Brady could blurt out Sarah's secret to Chloe or Xander. Brady's intentions will be to take Xander's focus off of Chloe and back onto Sarah.
While this might reunite "Xarah" and "Bhloe", could it mark a transformation with Brady? Is this just the beginning of Brady's descent into darkness?
Be sure to catch up on everything happening with DOOL right now. Come back often for Days of Our Lives spoilers, news, and updates.
For more about what's happening on your favorite soaps and more ways to connect with us, join the conversation on our Facebook Page, check out our Twitter feed, look for an update on our Instagram, follow us on Threads , Always stay up-to-date with us on Google News, or drop us an e-mail HERE! See you there!