Days of our Lives
Days Of Our Lives Spoilers: Vivian Gets A Dramatic Blow, The Divorce Decree Perhaps?
Days Of Our Lives spoilers indicate that Vivian Alamain (Louise Sorel) will get a dramatic blow. Could there be a copy of the final divorce decree among Victor Kiriakis' (the late John Aniston) possessions? Will Maggie Kiriakis (Suzanne Rogers) be able to prove that her marriage to Victor was legal after all?
Days Of Our Lives Spoilers – Vivian Alamain Claims She Is Still Married To Victor Kiriakis
Days of Our Lives Spoilers reveal that Vivian claims that her divorce from Victor was never finalized. However, money does change a lot.
Could Vivian have paid someone to make the decree disappear from the courthouse in Salem? After all, there is no way that Victor could not have made sure this was taken care of before he married Maggie.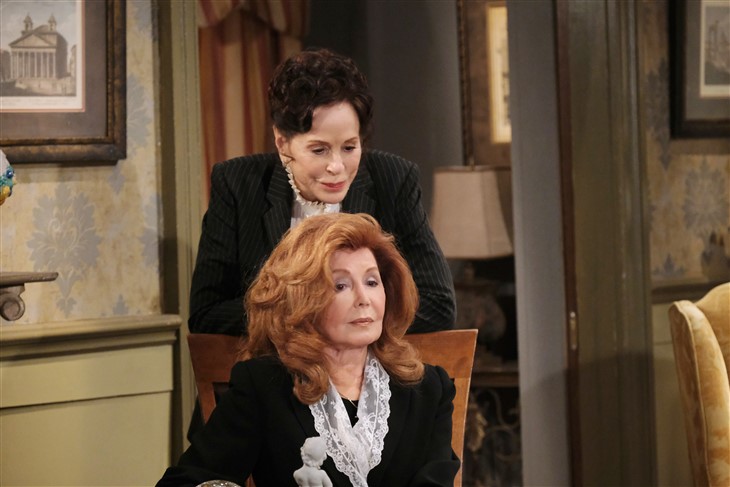 Victor must have known something was going on to have made this detour. Perhaps Victor had a copy of the decree in his locked box at the Villa and went to Greece to retrieve it.
Either way, Vivian is obviously behind part of this or everything would not be disappearing. Vivian knew the decree couldn't be found before anyone called, just like she knew about the will.
DOOL Spoilers – Several Discovers Are Set To Be Made
Victor's briefcase will finally make it to Maggie. Alex Kiriakis (Robert Scott Wilson) and Brady Black (Eric Martsolf) will go to the villa to retrieve the locked box as well.
Several documents are in there along with Victor's letter to Caroline Brady (ex-Peggy McCay). Kayla Johnson (Mary Beth Evans) didn't provide a list as to what documents are in there.
According to spoilers, the Will and other documents are full of surprises. What secrets has Victor hidden inside his will? Is Alex or Xander Cook (Paul Telfer) Victor's child?
Who gets to head Titan now that Victor is gone? Was Victor already onto Vivian's plan and made sure that all of the documents needed were supplied?
Days Of Our Lives Spoilers – Vivian Alamain Tries To Use Family Members
Vivian will try to strike a deal with Phillip Kiriakis (John Paul Lavoisier), who she sees as her son. Phillip may decided to work with Vivian because of how his father has treated him over the years.
However, Phillip could turn Vivian down out of respect for Victor. Phillip is a wild card so it is a tossup as to what he will do.
Vivian is also rumored to have attempted to make a deal with Alex as well. Alex was very upset with Maggie at one point but that doesn't seem to be the case now that Victor is gone.
Alex sees what Vivian is trying to do to Maggie and is very unlikely to work with her. Will Brady and Alex be the ones who puts a stop to Vivian's plans instead?
Be sure to catch up on everything happening with DOOL right now. Come back here often for Days Of Our Lives spoilers, news, and updates.
For more about what's happening on your favorite soaps and more ways to connect with us, join the conversation on our Facebook Page, check out our Twitter feed, look for an update on our Instagram, follow us on Threads , Always stay up-to-date with us on Google News, or drop us an e-mail HERE! See you there!