Doctor Who
Doctor Who Showrunner RTD Reveals Why Season 14 Won't Feature 2 Classic Villains: "A Good Pause"
Doctor Who showrunner Russell T Davies confirms that season 14 won't feature the sci-fi show's two classic villains in favor of newer villains.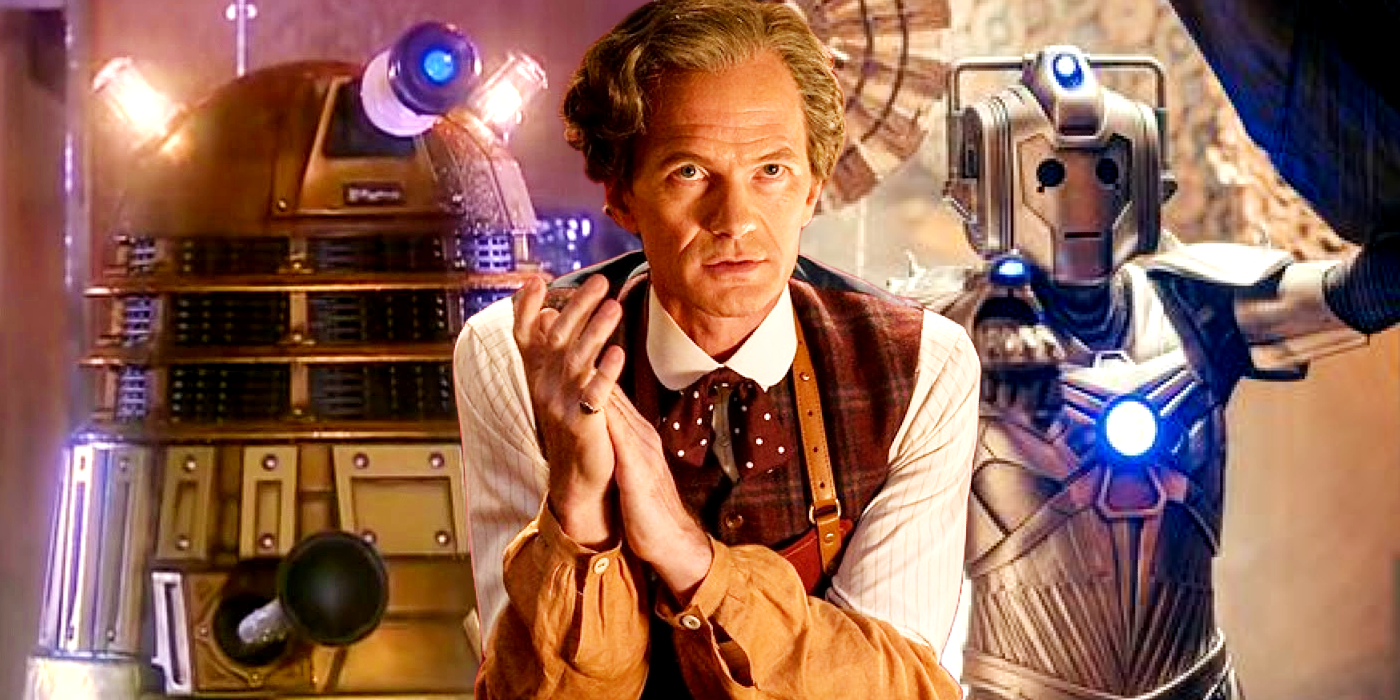 Doctor Who is planning to take some time away from its classic villains in season 14. Because it has been on air since 1963, the show has enjoyed countless recurring characters and villains. As the Doctor jumps through time and space with his companions, they constantly encounter monstrous aliens, including Cybermen and Daleks, who seek to conquer the universe. The villains have become a staple part of the show for over 60 years, but that may now change.
While speaking after a press screening for the first episode of the Doctor Who 60th Anniversary specials, RadioTimes.com reports that returning showrunner Russell T Davies doesn't plan to use the Cybermen and Daleks in the upcoming season. Because they have been overused throughout the show's modern era, Davies plans to let the villains remain unused in season 14 and hopes to create new classic villains in the meantime. Check out his full quote below:
"It's very new. Ncuti [Gatwa]'s new and Millie [Gibson] is new and it was new to us with Disney and the whole new era, as it were. So I didn't want to look… there are no Daleks, there are no Cybermen, I didn't want to look back too much. I do think we've had a lot of Daleks lately. Because, actually, lovely Chris Chibnall's Christmas specials have all been Daleks. So I think they've been done a lot, so people are expecting them every year now. So I think they need a good pause. Hopefully there's some enemies and things that will become new classics. But it's always good to move on!"
Why The Dalek & Cybermen's Absence In Doctor Who Season 14 Is A Good Move?
Because the Daleks and the Cybermen are so compelling, they have appeared often in the new era of Doctor Who. The Daleks first appeared in the modern era in "Dalek," as a lone Dalek survivor of the Time War faced off against the Doctor. The Cybermen, meanwhile, reappeared in "Rise of the Cybermen," ushering in an updated look and a renewed desire to convert all lifeforms into Cybermen.
Since those harrowing reintroductions, the villains have constantly appeared in the British sci-fi show. In the Chris Chibnall era, the Daleks appeared in six different episodes, while the Steven Moffat era featured 14 appearances. Moffat introduced the Cybermen 11 times, while Chibnall featured them on six different occasions. A break could be a necessary change of pace to promote variety in the cast and debut foes who can be fresh challenges to the Doctor and his companions.
By allowing the Daleks and Cybermen an opportunity to remain off-screen throughout Doctor Who season 14, the show can afford them a grandiose return when they appear again. Rather than featuring the Doctor constantly defeating them, they can continue with their schemes and can even build a stronger returning strategy. Their absence will only make their return more highly anticipated, which makes Daleks and Cybermen's absence in season 14 a good decision by Davies.