General Hospital
General Hospital Spoilers: Carly Declines Sonny's Offer, But The Damage Is Done When Nina Hears About It
General Hospital spoilers indicate Sonny Corinthos (Maurice Benard) is eager to help Carly Spencer (Laura Wright) out of a tight spot. She's just taken over ownership of Kelly's Diner, and she's trying to work out a way to pay a $5 Million fine to the SEC.
Drew Cain (Cameron Mathison) already tried to offer up Aurora for sale to cover her debts, but Carly wasn't hearing it.
She'll deliver the same impassioned speech about digging herself out of this hole to Sonny when he offers to buy the lakehouse just to let her stay in it.
Certainly, he has the means to do so covertly in a way that the government could never tie it back to him. When Carly declines his heartfelt offer, there will be no harm, no foul — that is, until Nina Reeves (Cynthia Watros) finds out.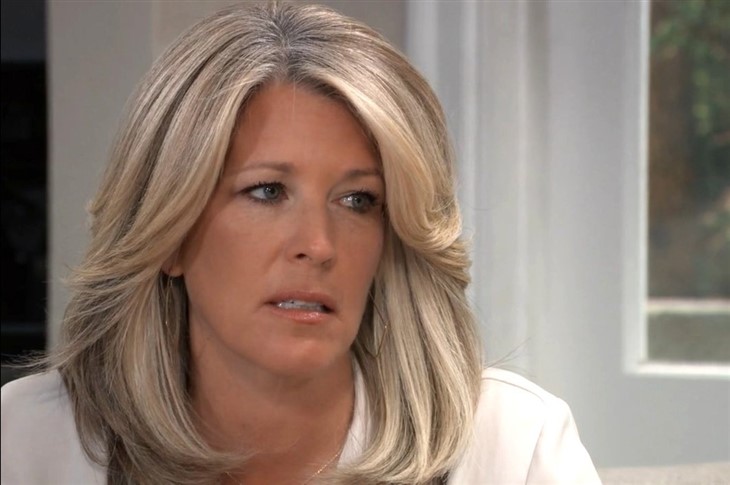 General Hospital Spoilers — Sonny Corinthos Goes Out On A Limb
Sonny was stifled by Carly's pride at the PCPD recently. Picked up for allegedly starting a bar fight with Mason Gatlin (Nathanyael Grey), Sonny was there to help Eddie Maine (Wally Kurth) out of a bind and suggested Carly let him hit two birds with one stone and sign her out as well. But Carly wasn't giving in. She is determined to fix her own messes and clean up after herself — even if it's taken her this long to figure it out. Moreover, Sonny is the last person she wants help from after all that he has done to her. Will she ever let him make it all better like he used to?
GH Spoilers – Squeal Carly Spencer Is Adultling for Once
Carly is focused on getting back everything she feels she has had taken from her, but let's be honest — she lost some of it all on her own.
So maybe it's only fair that she works hard to regain what she lost. In the meantime, it seems that she has lost sight of the very lessons she worked hard to instill in her children — that family is there for each other during hard times.
If she doesn't think she's in the midst of them, we're not sure what she would call the purgatory she's living in.
Nonetheless, she has taken the reins at Kelly's and sees it as the next metro Court project on her list. But Kelly's doesn't need much changing, and fans are hoping she finds another way to paint her ego pretty that doesn't include revamping the place to refine it.
General Hospital Spoilers — Nina Reeves Grows Greener With Envy
The problem isn't that Carly doesn't want Sonny's help, although that's not going to do her any favors. Anyone can recognize that Carly doesn't think the price her pride would pay in exchange for keeping the house is worthwhile to her.
After all, this man cheated on her and abandoned their marriage when it was at its lowest — after she had given up on her future with Jason Morgan (Steve Burton) to fight for it.
But when Nina Reeves (Cynthia Watros) learns that Sonny is practically pleading with Carly to let him rescue her once again, after his failed attempt at the PCPD, she's not going to take it lightly.
Will Nina make another play against Carly since the last one didn't successfully eradicate her from their lives? Stay tuned for more GH news and spoilers to find out.