General Hospital
General Hospital Spoilers: Lois Butts Heads With Chase — No One Will See This Coming
General Hospital spoilers tease Lois Cerullo (Rena Sofer) is in the house — the Quartermaine mansion to be precise. Her arrival has come at a precarious time in the family and the household. Convincing Lois to stay at the mansion was Olivia Quartermaine's (Lisa LoCicero) own personal mission, and one she may come to regret if her husband can't keep his eyes to himself as he racks his brain trying to figure out how he knows this siren from his past.
Meanwhile, Lois is going to settle in to spend some real quality time with her daughter, Brook Lynn Quartermaine (Amanda Setton), and of course, she'll be meeting Harrison Chase (Josh Swickard) along the way.
General Hospital Spoilers — Harrison Chase Bares All
This is the worst of times for Chase to have to meet Brook Lynn's mom. He has just learned his father is dying from ALS — and that his dad and brother, Hamilton Finn (Michael Easton), kept it a secret from him.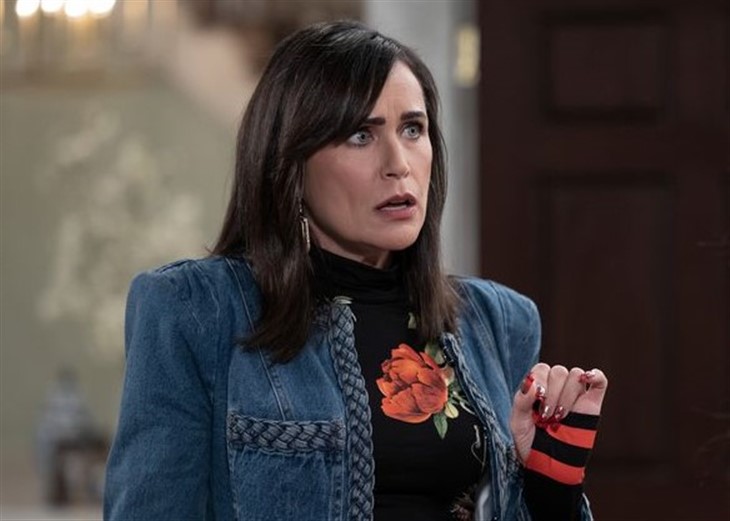 Finding out last — even after Tracy Quartermaine (Jane Elliot) — really stung. Being around Tracy is only going to remind him of that as much as he tries to move on from it.
When Lois lays into Tracy and comes to Chase's defense, viewers might get the impression that Brook Lynn's mom is going to be thick as thieves with Chase, but that doesn't appear to be the case.
GH Spoilers – Reveal Lois Cerullo Loves Him
Right off the bat, Lois coming to Chase's aid is going to make him feel like he fits in with her and has her blessing. But looks can be deceiving, and it's still early. We're hoping Lois is around for a good while. What is there to dislike about Chase anyway? He's a cop.
He would keep her daughter safe. He's been a bit of a guidepost to help her work out her Quartermaine kinks — that tendency to lie — too. Lois and Chase will become fast friends, right before they reverse course and overwhelm Brook Lynn with their dislike of one another.
Just when we start to think Lois may approve of this union and love Chase and Brook Lynn being together, they're going to butt heads in a major way.
Eddie Maine (Wally Kurth) took one look at Lois in the Q living room and realized he knew her — in a way that he apparently doesn't know or remember anyone else.
Try as she may to avoid it, Lois' feelings are going to get the best of her. When nostalgia creeps in and starts making her feel that old familiar feeling for Eddie, Chase will have plenty to say about it. We already know how he feels about cheaters, right?
This may lead to a serious skirmish between him and Brook Lynn as she acknowledges her boyfriend is right while trying to avoid throwing her own mom under the bus.
Stay tuned for more GH news and spoilers to see how this shakes out.
For more about what's happening on your favorite soaps and more ways to connect with us, join the conversation on our Facebook Page, check out our Twitter feed, look for an update on our Instagram, follow us on Threads , Always stay up-to-date with us on Google News, or drop us an e-mail HERE! See you there!