Days of our Lives
Days Of Our Lives Spoilers: John & Marlena's Surprise, Joseph's Bad Reaction To 'Good' News?
Days of Our Lives spoilers reveal that John Black (Drake Hogestyn) and Steve "Patch" Johnson (Stephen Nichols) are trying to help Joseph Bell (Dick Van Dyke), Salem's latest amnesiac. It is teased that during the week of September 11, John and Marlena will have a surprise for Joseph. However, could Joseph end up having a bad reaction to the "good" news? Keep reading and let's discuss what could happen with Joseph's storyline.
Days Of Our Lives Spoilers – Meeting Joseph Bell
DOOL spoilers reveal that Kayla Johnson (Mary Beth Evans) recently met an amnesiac. Soon, Marlena became involved and tried to help evaluate the patient.
After that, Kayla and Marlena recruited John and Steve aka "Black Patch" to help the man. What is known is that the amnesiac is "Joseph Bell."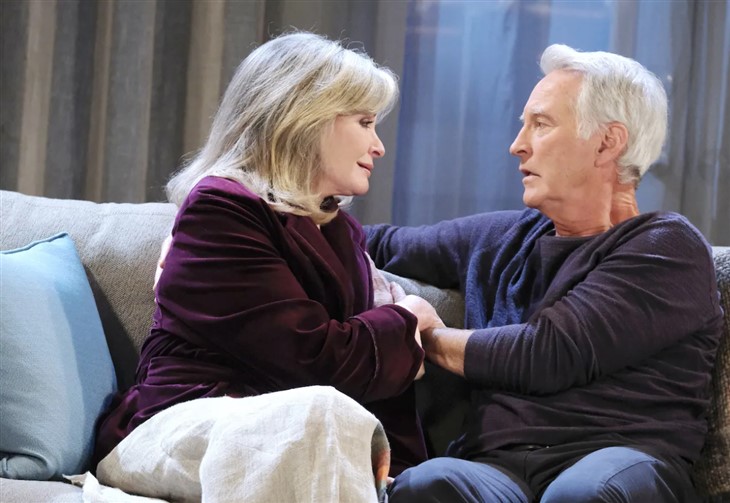 Despite numerous attempts over the decades to keep calling Joseph by his name, it never sticks.
As if it might not be his real name. There are other puzzle pieces that indicate the amnesiac could have a more troubling story.
DOOL Spoilers – Black Patch's Search
While doing some digging, John and Steve learned that the amnesiac has been in veteran's hospitals for decades. Here is the interesting thing, though.
It was explained during a recent episode that each time Joseph is transferred somewhere new, it's like they have to start from scratch.
Now, Joseph's records should follow him from hospital to hospital. So, it sounds fishy that if Joseph is actually a veteran, that there would be no information on his son.
Days Of Our Lives Spoilers – John Black & Marlena Evans' Surprise
Days of Our Lives spoilers for the week of September 11 reveal that John and Marlena have a surprise for the mystery man.
It's possible that John and Steve are able to track down Joseph's son. However, what happens when the mystery man finally faces the son he wanted to find so bad?
DOOL Spoilers – Bad Reaction to 'Good' News?
It is possible that Joseph might have a bad reaction to seeing his son. Perhaps the memories come flooding back and Joseph's son is the reason his brain blocked everything out. Another possibility is that Joseph's son has nothing nice to say to the man.
Of course, Joseph might be lying about not knowing his identity. Joseph could be running from the law or someone else. It seems far too easy for this mystery to be solved.
What do you think is going to happen with Black Patch's search into Joseph's past? Is Joseph's son part of John and Marlena's surprise?
What is the real deal with the mystery amnesiac? Share your thoughts in the comment section below. Remember to keep watching the soap on Peacock to find out what happens next.
Be sure to catch up on everything happening with DOOL right now. Come back often for Days of Our Lives spoilers, news, and updates.
For more about what's happening on your favorite soaps and more ways to connect with us, join the conversation on our Facebook Page, check out our Twitter feed, look for an update on our Instagram, follow us on Threads , Always stay up-to-date with us on Google News, or drop us an e-mail HERE! See you there!