Days of our Lives
Days Of Our Lives Spoilers Thursday, August 24: More Victor Memories, Nightmares & Omens, Glaring Red Flags
Days of Our Lives spoilers for Thursday, August 24 reveal that Marlena Evans (Deidre Hall) and Roman Brady (Josh Taylor) remember Victor Kiriakis (John Aniston).
Melinda Trask (Tina Huang) gives off major red flags. EJ DiMera (Dan Feuerriegel) takes his nightmare as an omen.
Plus, Harris Michaels (Steve Burton) soothes a panicked Ava Vitali (Tamara Braun). Keep reading to find out what is coming up in the Peacock soap opera.
Days Of Our Lives Spoilers – More Victor Kiriakis Memories
DOOL spoilers for Thursday, August 24 reveal that Salem will continue reacting to Victor's death. Some people in Salem are mourning the patriarch. However, others don't feel as sad about Victor's sudden death.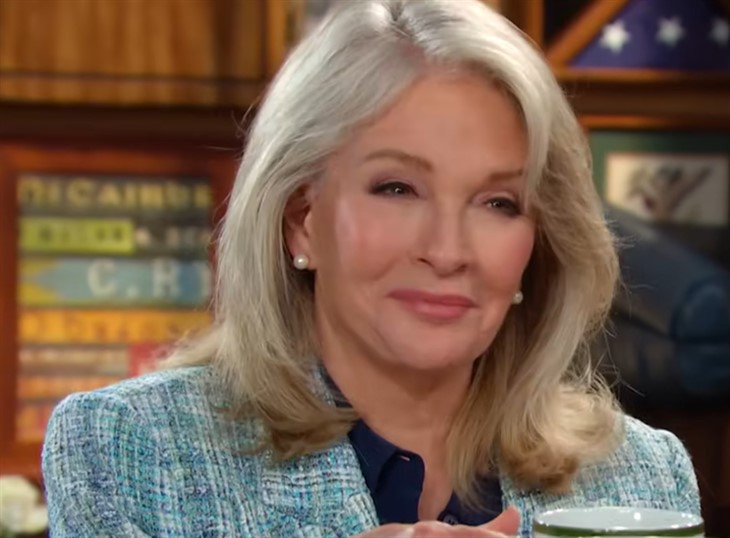 In Thursday's episode, fans can expect the next characters to discuss Victor's death to be Roman and Marlena. In the weekly preview clip, Marlena gives a toast to honor Victor.
Roman chuckles and questions if Marlena is seriously sad about Victor's death. That is when Roman and Marlena discuss their Victor memories.
DOOL Spoilers – Nightmares & Omens
On Thursday, August 24, fans can expect EJ to have a nightmare. This nightmare will be taken as a sign, though. It might not have anything to do with Melinda's hint or the baby.
It just might have to do with EJ's "dead" mother, Susan Banks (Stacy Haiduk). Perhaps EJ thinks that Susan is in some kind of danger or has a nightmare that his mother is really alive.
READ THIS: Find out what happens next on Days Of Our Lives.
Days Of Our Lives spoilers – Glaring Red Flags
Days of Our Lives spoilers for Thursday, August 24 reveal that one Salemite will give off glaring red flags. This will have to do with Melinda, who is keeping Sloan's secret.
Plus, Melinda dropped some major hints to EJ about Nicole's baby. EJ didn't get what Melinda was really saying, but did discuss it with Nicole. However, the two decided that Melinda was just spreading misery.
It is teased that Melinda's behavior will cause suspicion, though. So, who questions Melinda's behavior and what does it mean for her future?
DOOL Spoilers – Thursday, August 24
On Thursday, August 24, fans can also expect Ava to completely panic. Even though Ava is in Bayview, she is still seeing Charlie Dale (Mike Manning).
Ava mentioned to Harris that just when she thinks she's getting better, something happens to set her back.
It is teased that after Ava's reliability is questioned, the mob princess will panic. However, Harris will step in to calm Ava down.
Which storyline are you looking forward to seeing the most on Thursday, August 24? Share your thoughts in the comment section below. Remember to keep watching the soap on Peacock to find out what happens next.
 Be sure to catch up on everything happening with DOOL right now. Come back often for Days of Our Lives spoilers, news, and updates.
For more about what's happening on your favorite soaps and more ways to connect with us, join the conversation on our Facebook Page, check out our Twitter feed, look for an update on our Instagram, follow us on Threads , Always stay up-to-date with us on Google News, or drop us an e-mail HERE! See you there!