General Hospital
General Hospital Spoilers: Deadly Threats, Friends Plot, Shocking Discovery, Mystery Person
General Hospital spoilers for the week of Monday, September 18-Friday, September 22 tease direct threats, provable theories needed, and devastating conclusions!
Valentin Cassadine (James Patrick Stuart) discusses direct threats, provable theories are needed by Dante Falconeri, (Dominic Zamprogna) and Nina Reeves (Cynthia Watros) and Valentin come to devastating conclusions!
General Hospital Spoilers: Direct Threats
After Anna Devane (Finola Hughes) and Valentin came back to Valentin's suite at the Metro Court, they discovered the suite had been vandalized-mostly with red ink.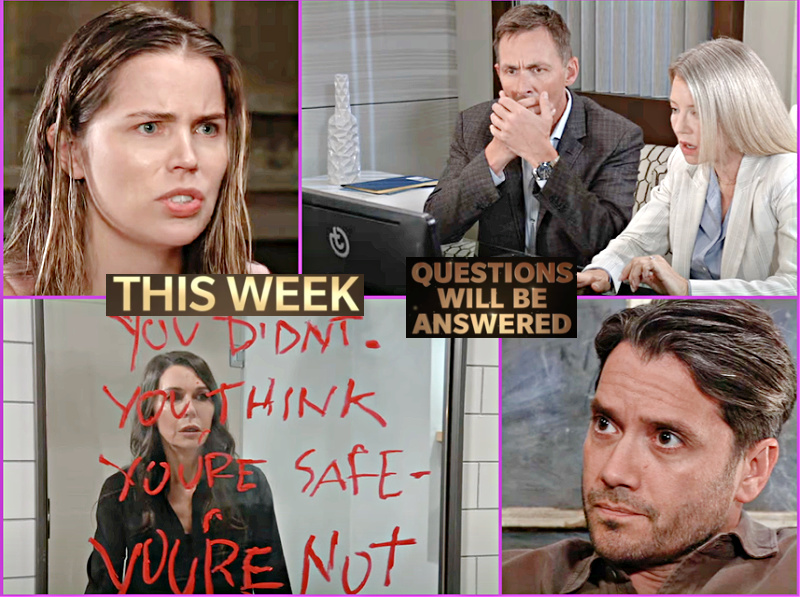 The room was tossed, red ink was all over all of Anna's clothing, mostly newly purchased after the arson destroyed her home, preceded by another threatening message on her door.
Both had guns drawn as they entered, and Anna checked out the bathroom, where a threatening message had been written on the mirror, possibly in red lipstick.
MUST READ – Fans Pay Tribute After Billy Miller's Tragic Death – Soap Star Was Battling Depression
Valentin tells Anna the message on the mirror, which said "you think you're safe, but you're not" is a direct threat, which Anna surely realized herself. But who vandalized the room and who wrote the threat on the mirror-and who would destroy her clothing with red ink?
GH Spoilers: Provable Theories Needed
At the remote cabin that Sam McCall (Kelly Monaco) provided for Sasha Gilmore (Sofia Mattsson) and Cody Bell (Josh Kelly) as a hideout, Sasha tells Dante what happened.
Dante appears deep in thought as Sasha tells him that Dr. Damon Montague (Darin Toonder) injected her with drugs; Dante himself had seen Sasha in a drugged state at Ferncliff.
The four of them brainstorm as to how to make sure Montague goes down for his crimes; with the drugs out of Sasha's system now, they can't even be identified.
As Cody looks on, Dante remains thoughtful as Sam asks how do they prove it-he can't even get a warrant or a subpoena to talk to the Ferncliff staff without proof!
General Hospital Spoilers: Devastating Conclusions
Of course, the next logical step for Valentin is to view surveillance footage of the Metro Court for the night his suite was vandalized and Anna was threatened.
He sits with his ex-wife Nina Reeves (Cynthia Watros) and they look at the footage together, and Valentin gets a shock, as well as Nina!
Obviously, the person or persons they see on the footage is someone they both know, and it's unbelievable to both of them, and obviously hard to look at.
Valentin clasps his hands over his mouth in shock, and grief seems to take over his facial expression as he and Nina look at the footage. Nina is just as upset as he is as she exclaims, "Oh my God, it can't be"!
Be sure to catch up on everything happening with GH right now. Come back here often for General Hospital spoilers, news, and updates.
For more about what's happening on your favorite soaps and more ways to connect with us, join the conversation on our Facebook Page, check out our Twitter feed, look for an update on our Instagram, follow us on Threads , Always stay up-to-date with us on Google News, or drop us an e-mail HERE! See you there!