General Hospital
General Hospital Spoilers: Esme Sounds An Alarm, Baby Ace Has Gone Missing?
General Hospital spoilers and updates tease Esme Prince (Avery Kristen Pohl) will sound an alarm-she might discover Ace Prince-Cassadine (Joey and Jay Clay) missing. Might Nikolas Cassadine (Adam Huss) have returned from Europe and claimed his son without proper legalities-he could be charged with parental kidnapping!
General Hospital Spoilers – Did Nikolas Cassadine "Cassadine" Austin Gatlin-Holt?
When Nikolas left Austin Gatlin-Holt's (Roger Howarth) house, dragging a suitcase, he claimed he was going to Europe.
He made a cryptic remark about it being time for a family reunion, when he didn't want to make contact with Spencer Cassadine (Nicholas Alexander Chavez).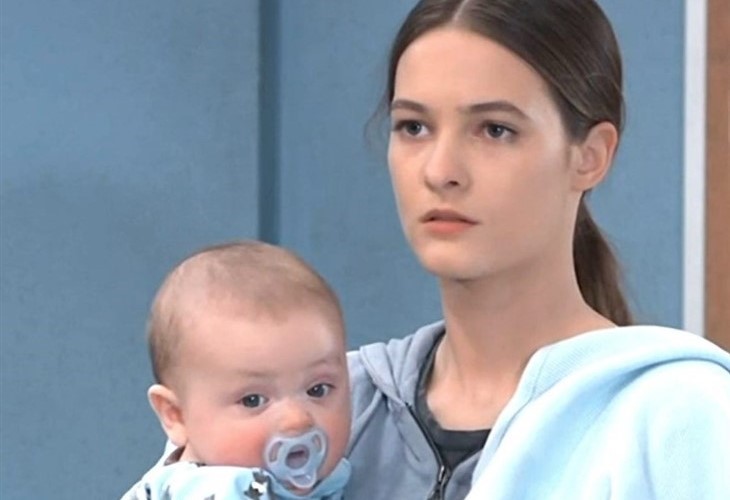 He didn't want to reunite with his mother, Laura Collins (Genie Francis) either, although he did want her to know he's alive-oddly, he didn't mention the baby.
Might Nikolas have "Cassadined" Austin and lied about his trip to Europe, merely finding another place to hide out in Port Charles?
Could he have bided his time and gotten into the Collins home with Esme alone with Ace and kidnapped his younger son?
GH Spoilers – Spencer Cassadine's In New York City With Trina Robinson
Spencer's on a romantic trip in New York City with Trina Robinson (Tabyana Ali) and had asked Alexis Davis (Nancy Lee Grahn) to keep an eye on Esme and Ace.
Esme would be in the Collins house alone with her son, and Spencer feared she'd run off with him-although Alexis calmed his fears.
Since she's been working for Alexis, Esme has done very well and she doesn't think Esme would do that, but she promised to check in anyway.
Esme had checked at Kelly's for a vacant room, and Carly Spencer (Laura Wright) had told Alexis about that-it's obvious Esme wanted her own space as well.
This would be a prime opportunity for Nikolas to sneak into the Collins house while Esme's alone and run off with the baby himself!
General Hospital Spoilers – Kevin And Laura Collins Return
Nikolas wants his mother to know he's alive, and he said it's time for a family reunion, but he didn't want to reunite with her.
One way he could do that is to take Ace and go to a secret location and send a photo of him holding the baby to her from a burner phone.
Laura and Kevin Collins (Jon Lindstrom) could return home to a frantic and grieving Esme, fearing her birth mother may have broken out and Heather Webber (Alley Mills) has her baby.
Laura will realize that Nikolas not only is alive, but he's broken into their house and kidnapped his son with Esme! Now the search for Nikolas becomes even more intense, because stealing his son wasn't a good idea!
Be sure to catch up on everything happening with GH right now. Come back here often for General Hospital spoilers, news, and updates.
For more about what's happening on your favorite soaps and more ways to connect with us, join the conversation on our Facebook Page, check out our Twitter feed, look for an update on our Instagram, follow us on Threads , Always stay up-to-date with us on Google News, or drop us an e-mail HERE! See you there!