Celebrity
Henry Winkler Promised to Always Remember Homeless Erin Moran — He Was Her Family While She Never Had Kids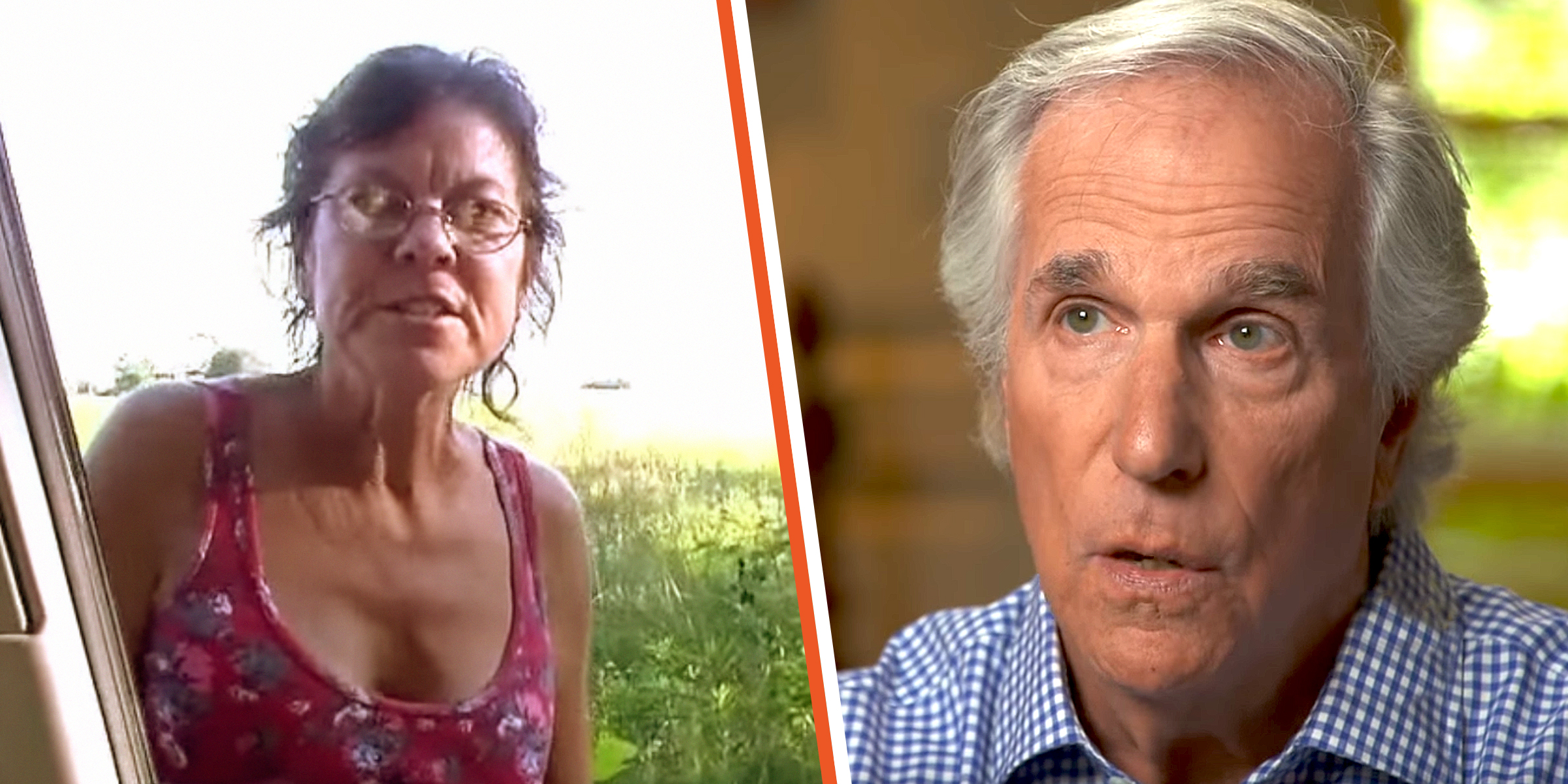 The lives of "Happy Days" stars, Henry Winkler, a.k.a. Fonzie, and Erin Moran, a.k.a Joanie, took different paths years after the series ended.
While Winkler excelled in acting, cared for his family, and became the best dad and granddad, Moran fell on hard times.
Homeless, unwell, and childless, Moran found solace in her husband, who filled her final days with light and joy.
Erin Marie Moran was born on October 18, 1960, in Burbank, California, and was the second-youngest child among her five siblings. She was raised by her mother, Sharon, and father, Edward, a loan collector, in North Hollywood.
She was merely five when she appeared in her first advert. She also starred in numerous television roles and won the part of Richie Cunningham's sister, Joanie, at 13. Her adorable face, dotted with freckles and cute dimples, contributed a great deal in helping her become a household name during the show's ten-year-long run.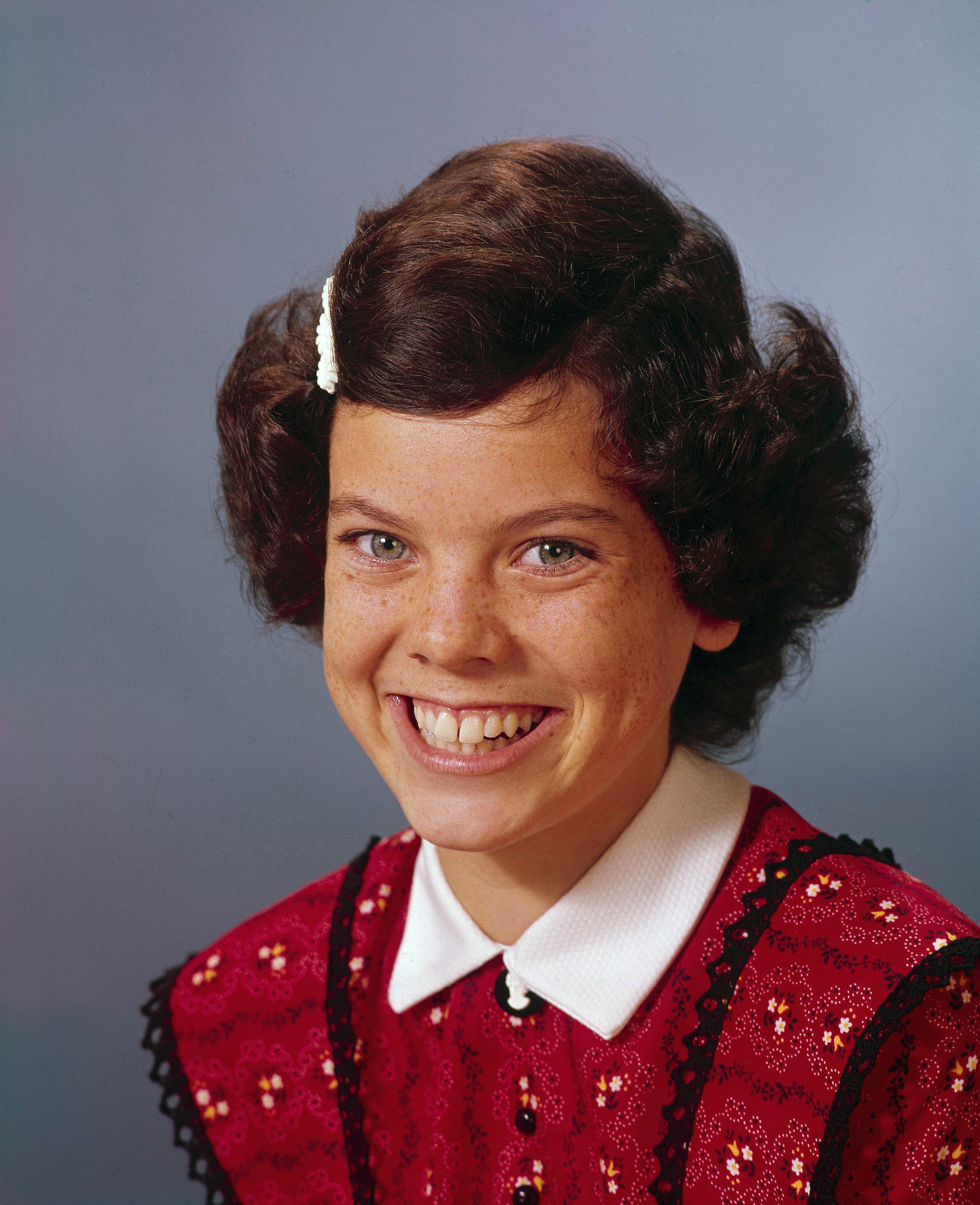 Erin Moran as Joanie Cunningham from "Happy Days" | Source: Getty Images
Moran's brother, Tony, said the years his sister spent on "Happy Days" were the most content he ever saw her. He stated that her co-stars offered her a stable family environment which she, unfortunately, never had growing up. He expounded:
"We were raised by a mom and dad who were not fit to be parents. [Erin] found true happiness on 'Happy Days' and was America's sweetheart. But then she was a nobody . . . and it broke her heart."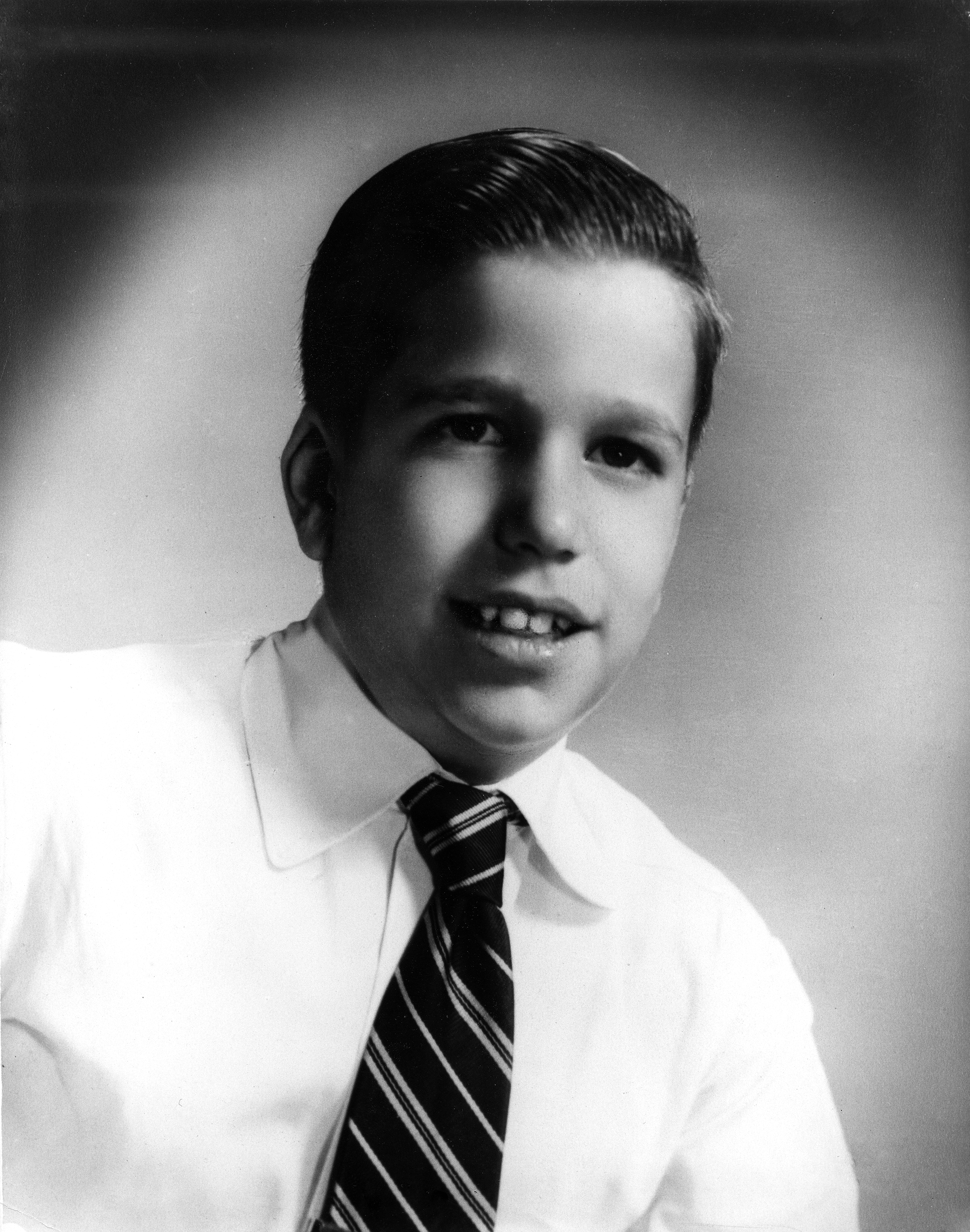 Photo of Henry Winkler, circa 1970 | Source: Getty Images
Tony discussed details about their difficult childhood, noting how their late dad, Edward, was an aggressive drunkard. Their mom, Sharon, who passed away in 2010, also dealt with her own demons. She had a painkiller prescription problem even as she struggled to raise her kids.
In the wake of her trials and tribulations, Moran found solace and happiness in her husband and television family, including her co-star Winkler and Anson Williams.
Despite their dad ruling with fear and subjecting his kids to physical violence, Tony said he never beat Moran because she had become famous and untouchable by then. However, witnessing the unstable family environment, Tony's sister yearned for loving and supportive parents.
Sharon dreamed of fame and was said to have lived her life through her famous daughter. Her life either centered around being in bed downing painkillers or accompanying Moran on the set.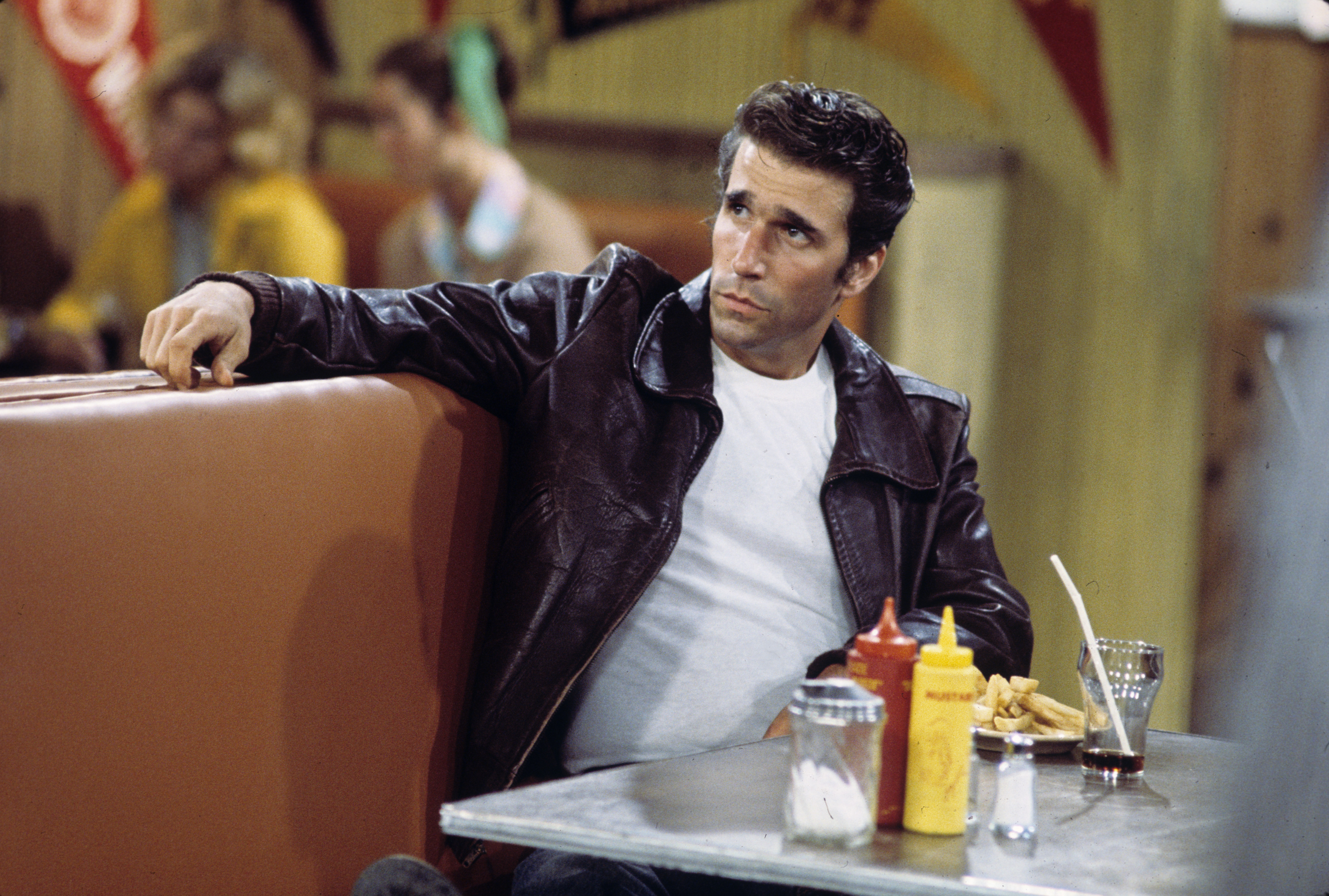 Henry Winkler as The Fonz on "Happy Days" | Source: Getty Images
In an interview, Moran shared details about becoming an actress, crushing on her co-actors, and her relationship with her TV family. The "Twirl" star said she had her first audition for a bank advert at 5, which she got thanks to a friend of Sharon who had another friend working as a children's agent.
The actress confessed to liking Potsie Weber on the show, and despite marrying Chachi Arcola, she also had a little crush on Fonzie — played by Henry Winkler — at the beginning. She even dated her on-screen love interest, Scott Baio, for a short time.
Moran revealed that she kept in touch with many of her cast members after the series ended, including Fonzie and Richie, who became just like her family.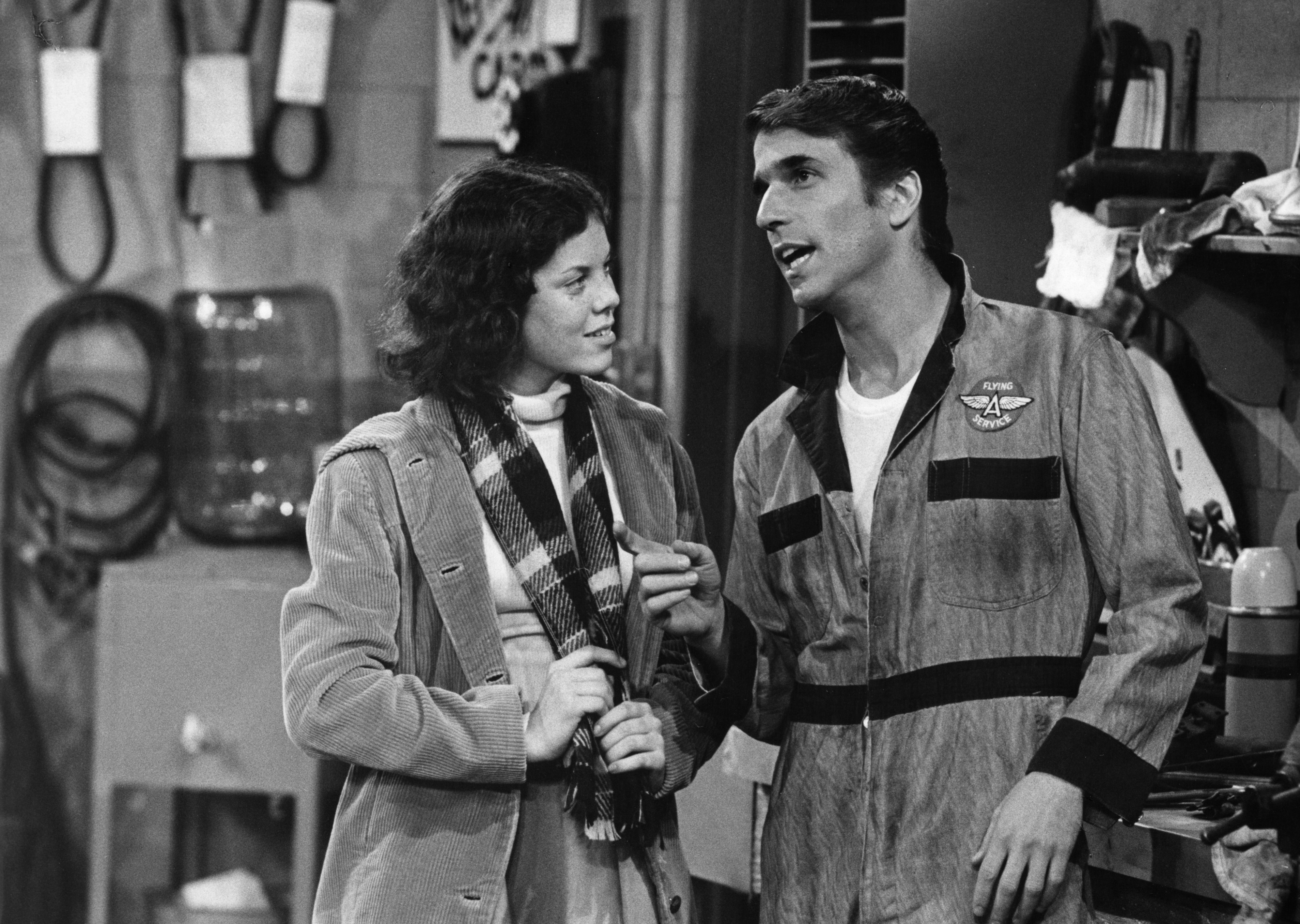 Erin Moran and Henry Winkler as Joanie Cunningham and The Fonz on "Happy Days" | Source: Getty Images
On the other hand, Moran's co-star, Winkler, had a somewhat different childhood which molded him into the person he later became. Born on October 30, 1945, in Manhattan, New York, he didn't always feel love or affection in the apartment where his immigrant parents from Nazi Germany raised him.
Winkler said his parents used a German phrase, "Dumm Hund," which meant "dumb dog," to describe him. Convinced that their son was lazy and not living up to his potential, the actor was grounded for most of his high school time. He faced the same treatment from his teachers.
Education was critical to his parents, and Winkler said they sometimes became critical and cruel in teaching him its value. Still, the TV star found studying difficult and only read his first complete book once he was 31.
Winkler recalled feeling clueless when other kids at school narrated their incredible family picnic stories. He mourned growing up without grandparents, whom he said were taken to the concentration camps. Moreover, he felt horrible for not having any exciting stories about his parents.
The "Happy Days" cast members Anson Williams, Scott Baio, Henry Winkler, Cathy Silvers, Al Molinaro,(Top, L-R) Ted McGinley, Erin Moran, Marion Ross, Tom Bosley, and Lynda Goodfriend (Bottom, L-R) | Source: Getty Images
The "Heroes" actor was reportedly hit with hands and even a hairbrush in childhood. Once, while having cereal for breakfast, he had his ear down to the bowl to listen to the crackers' popping and snapping sound when his mom caught him and chased him around the house.
Winkler's only vivid memories of his mom laughing were when he and his siblings tickled her into a closet and how amused she was during one of their car rides as they read an article about some absurd invention.
Taking lessons from his own childhood, "The Waterboy" actor vowed to be a better parent to his kids and never to lay a hand on them. While he never knew what it was like growing up around grandparents, Winkler experienced that joy when he became a grandfather.
Following his challenging childhood, Winkler wanted to make a name for himself in Hollywood. He got his first part on "The Mary Tyler Moore Show" and said it only took him two more weeks to land his role on "Happy Days." As The Fonz, he did splendid things on the show, like water skiing over the sharks and coining brilliant catchphrases.
Henry Winkler & Erin Moran's Life after "Happy Days"
After "Happy Days" ended, Winkler's life turned for the best as he found love and settled down. Following a successful acting career, he accumulated lots of wealth, with an estimated net worth of $35 million.
In 2019, the actor recalled when he first met his future wife, Stacey Weitzman. He saw the red-haired Weitzman wearing purple parachute pants at a store in 1976, during his time as Fonzie on "Happy Days."
Returning to the same place a week later, he offered to buy her a soda and was smitten with her beauty and sense of humor. Weeks later, Weitzman and her then-four-year-old son moved in with Winkler. They married in 1978 and had two more kids, Zoe and Max.
Winkler's wife supported him as he processed life after "Happy Days" and was beside him when he won an Emmy for his performance on the HBO series, "Barry."
Weitzman spoke fondly of her husband, saying they had changed over the years but still held each other dear. Despite the ups and downs, the pair's friendship and love only deepened with time. Winkler gushed:
"We enjoy fly fishing together. We enjoy grandchildren together. We enjoy going to the movies together. We truly enjoy each other every day."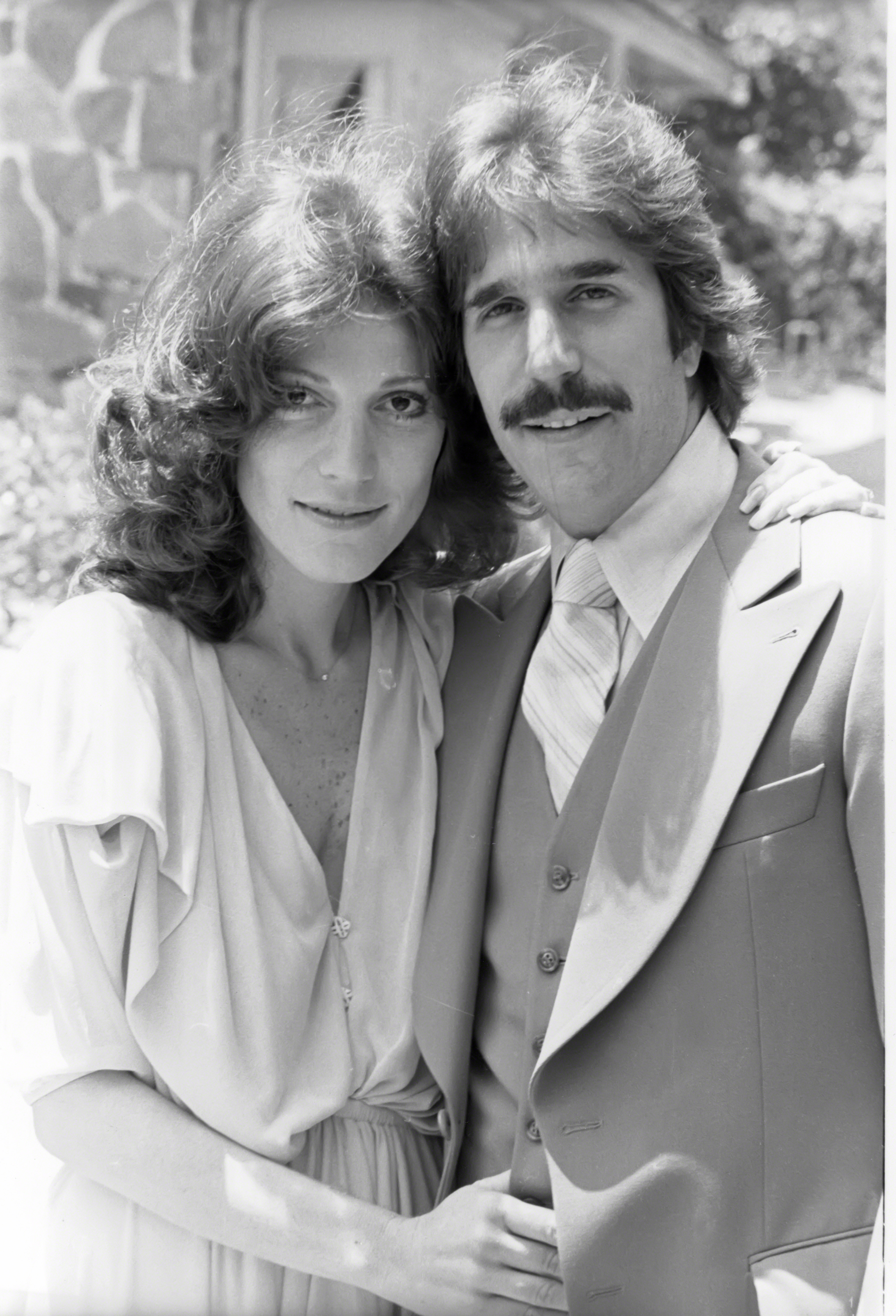 Henry Winkler and Stacey Weitzman, circa 1970s | Source: Getty Images
Winkler and his wife survived their fair share of difficulties throughout their marriage. In the late 90s, Weitzman was diagnosed with breast cancer, and while she quickly went into remission, her cancer returned in 2007. Fortunately, she became cancer-free after a double mastectomy.
To support his beloved wife, Winkler became associated with raising awareness for breast cancer. He was a guest speaker at the 13th annual "In The Pink of Health" luncheon, an occasion dedicated to fundraising for breast cancer patients and their loved ones.
We had so much fun pic.twitter.com/L6KG2Teh3n

— Henry Winkler (@hwinkler4real) June 28, 2022
Despite the hard times, Winkler and Weitzman were presented with numerous happy moments, and becoming grandparents was their shared joy. While feeling grateful about his 50-year-long Hollywood career and living his dream, the award-winning actor also doted on his favorite role — becoming a grandfather.
The proud grandpa revealed how much he and his wife enjoyed spoiling their six grandchildren with tender love and care. Winkler, who's written over 30 children's books, expressed how thrilled he was over his beautiful family.
Going FISHING!!!!! YAYYYYY!!!!!!!! pic.twitter.com/jXLybMD2l1

— Stacey Winkler (@StaceyWinkler15) June 25, 2018
On the contrary, Moran's life spiraled downward, and multiple problems, including homelessness, poverty, frailty, and childlessness, surrounded her. The genesis of her troubles was, ironically, the same show that boosted her to indelible fame.
During her time on "Happy Days," the producers reportedly told her to lose weight. Feeling pressured to look a certain way, she turned to alcohol and drugs. Even when she had everything that money could buy, including clothes, cars, and houses, she continued to indulge in speed and cocaine.
Sadly, after the cancellation of "Happy Days" in 1984, Moran's career hit an all-time low. She began losing money and only found minor or lackluster roles.
Even her personal life suffered, and her first marriage to Rocky Ferguson ended after six years in 1993. She recounted how Ferguson felt insecure because of her successful career, being a little-known actor struggling to establish himself.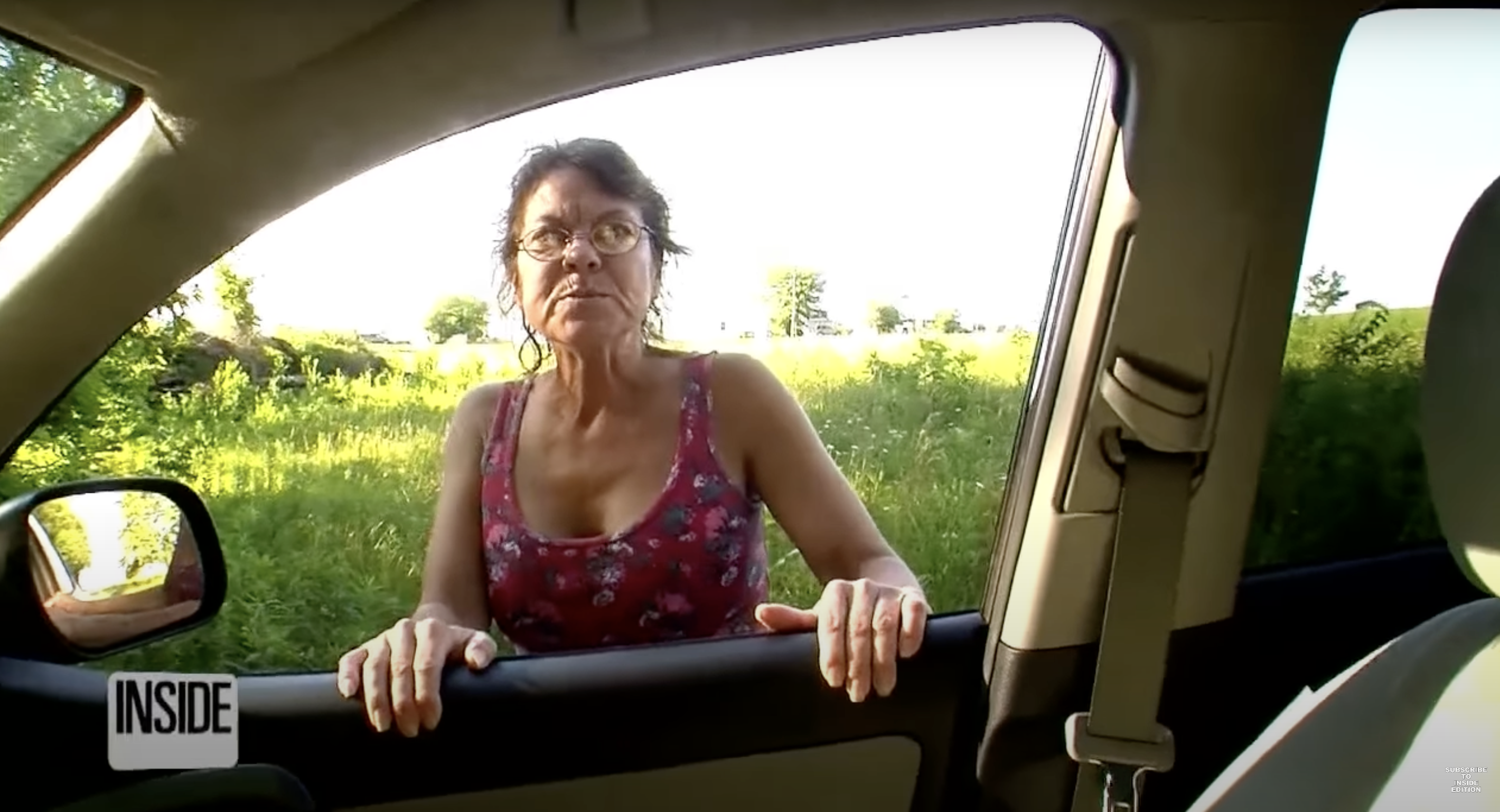 Erin Moran | Source: Youtube.com/Inside Edition
That same year, Moran married Steven Fleischmann, who worked at a local Walmart store. In 2010, the couple lost their home in Palmdale, California, with Moran reportedly blowing through the $60,000 settlement money awarded to her and four other actors from "Happy Days" in 2011.
Tony explained how nobody wanted to hire his sister because she had been typecast as Joanie. He said Moran fell apart after losing her fame—something she whole-heartedly loved. Deeming herself a failure, she found solace in medicines and drugs, wanting to numb the pain.
She barely spoke to or confided in her siblings during her challenging phase. "Erin was a tortured soul who never recovered after "Happy Days." Hollywood chewed her up and spat her out," expressed a heartbroken Tony.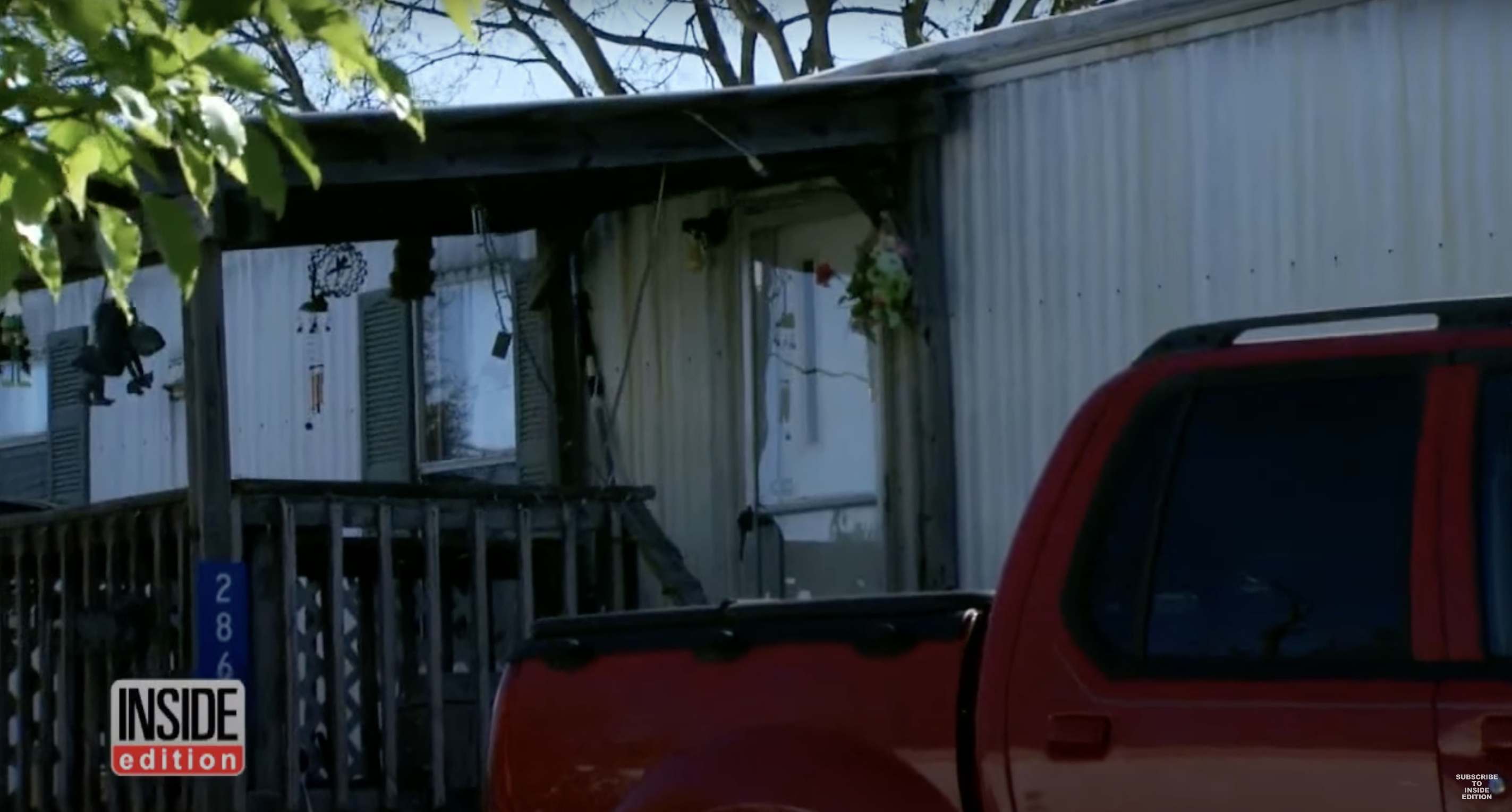 A closer view of the Southern Indiana trailer where Erin Moran spent her last few months | Source: Youtube.com/Inside Edition
After losing her home, the once-popular TV icon moved into her mother-in-law's trailer in Southern Indiana with her husband, easing into a life far away from the glitz and glam of Hollywood.
Neighbors said she mostly kept to herself and denied being in trouble when approached by the media.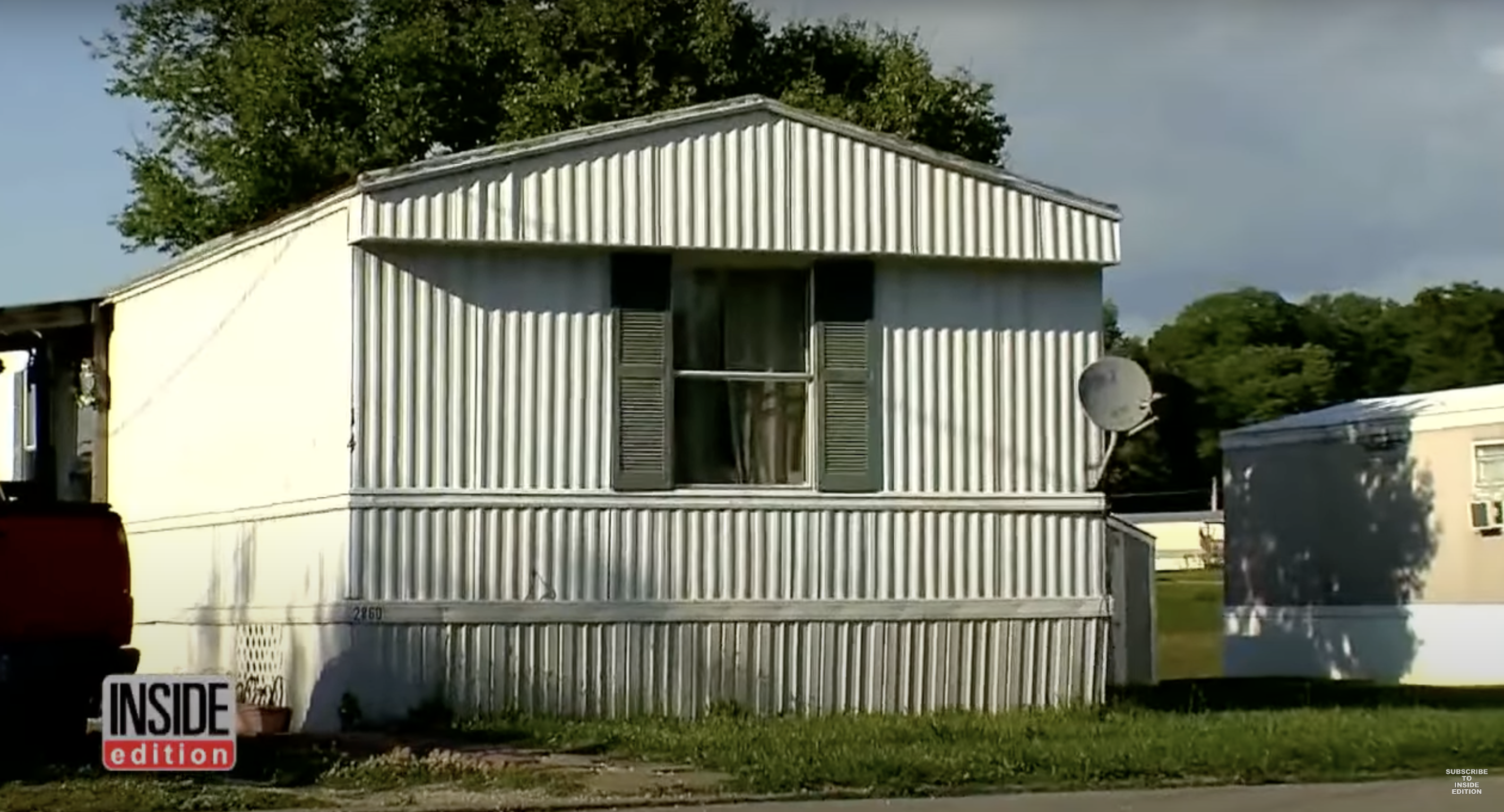 The trailer in Southern Indiana where Erin Moran lived in her final months | Source: Youtube.com/Inside Edition
In the wake of her trials and tribulations, Moran found solace and happiness in her husband and television family, including her co-star Winkler and Anson Williams. Speaking with high praise for Moran and her second spouse, Williams expressed:
"[Erin] found a good guy in Steve, who really really loves her and really really is there for her. They've gone through their struggles and came out on top."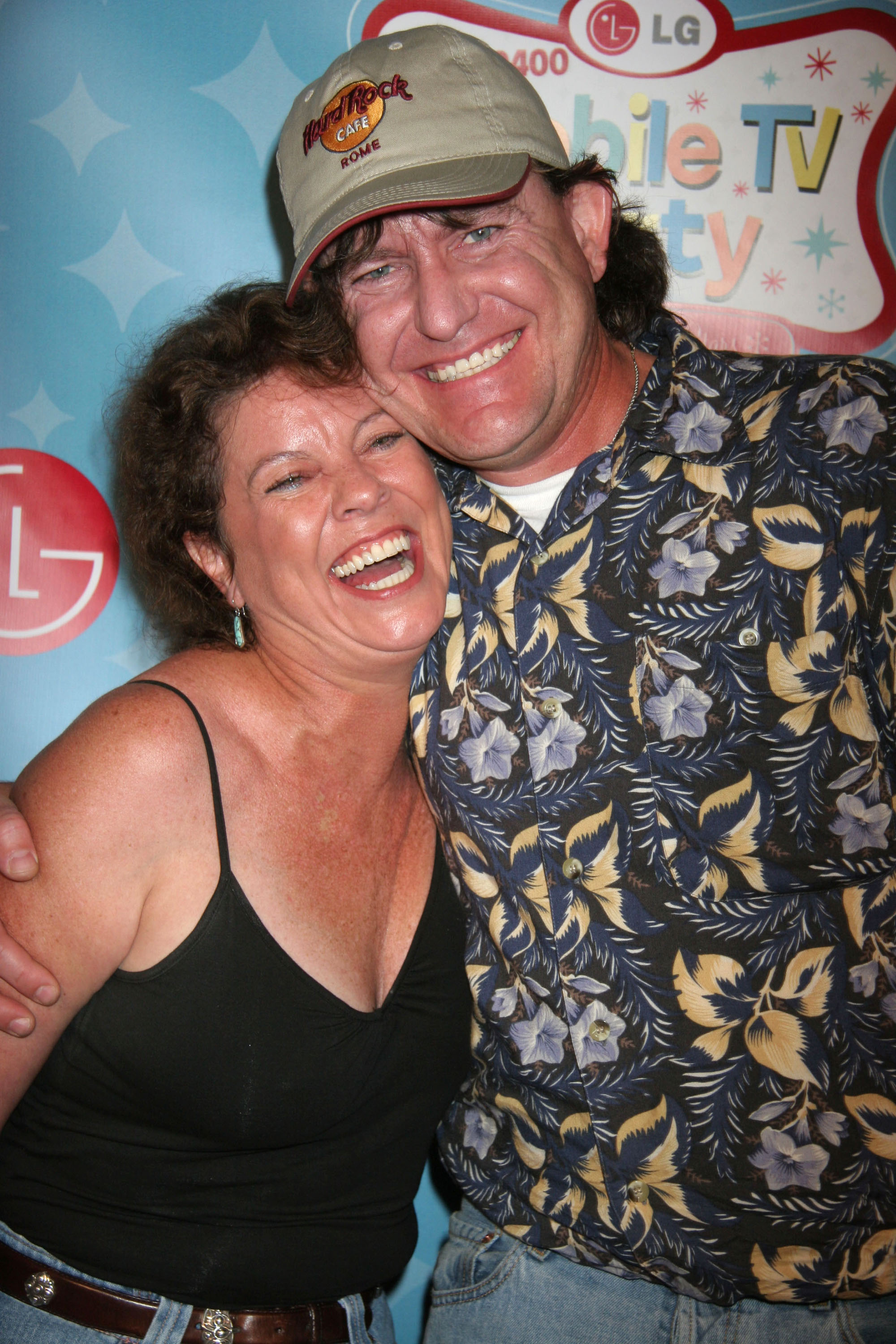 Erin Moran and husband Steven Fleischmann at Stage 14 – Paramount Studios in Hollywood, California | Source: Getty Images
Erin Moran's TV Family Paid Tribute to Her
As time passed, Moran's days were anything but happy. She became broke, homeless, frail, unwell, and even lost her ability to speak. Sources reported that none of her five siblings knew of her health battle because she didn't want them to worry about her.
Moran, who developed throat cancer, never told her family about her chemotherapy sessions. A devastated Tony remembered her as an incredibly strong woman who never asked for help. He said she had a charming personality and was always full of life:
"[Erin] had such a huge heart. It was just too big for Hollywood."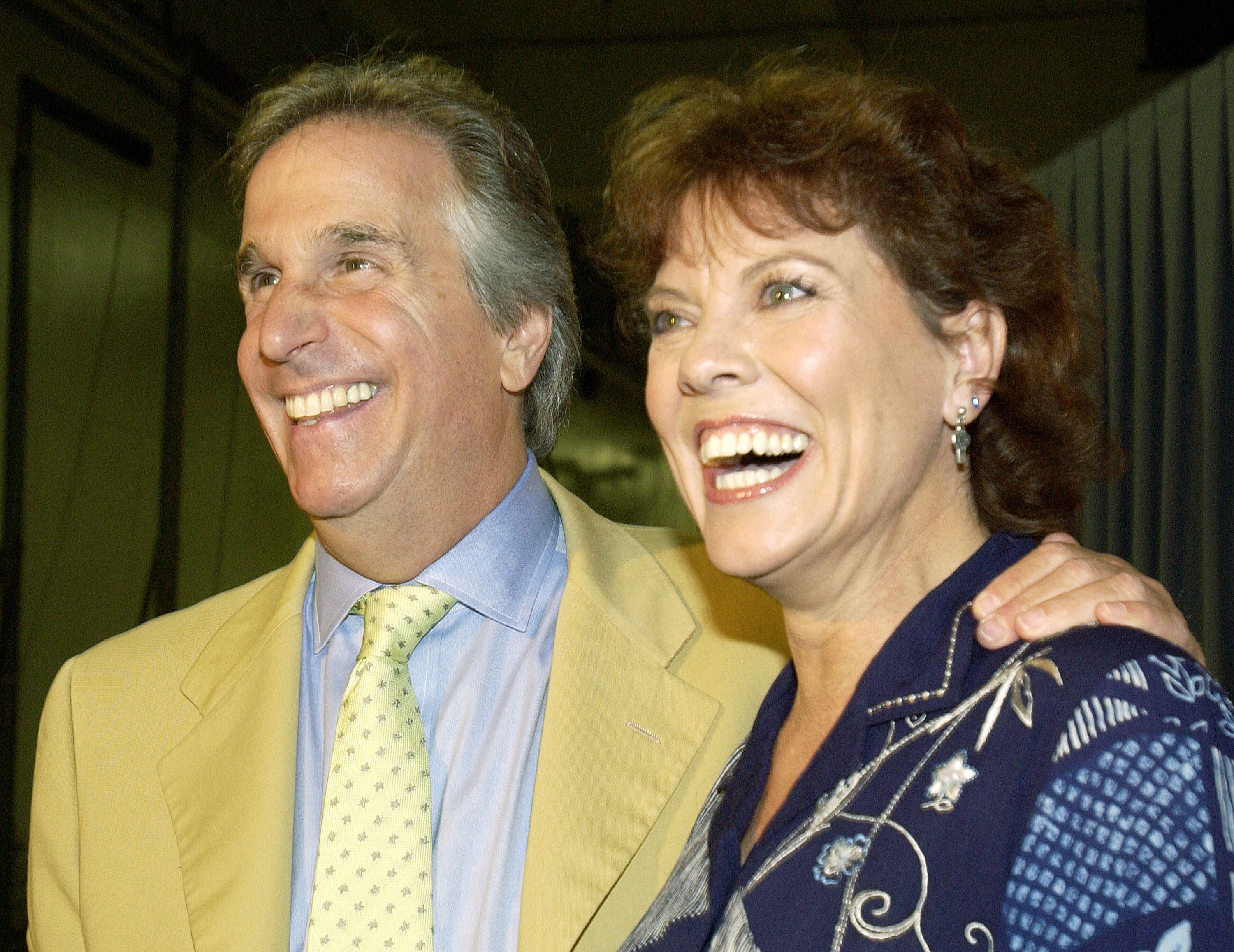 Henry Winkler and Erin Moran at CBS Television City in Los Angeles, California | Source: Getty Images
Although the "Joanie Loves Chachi" alum's co-stars tried to help her during her crucial period, a few reportedly ignored her. In April 2016, Moran's on-screen love interest and former boyfriend, Scott Baio, admitted he had a family to care for and a job to do and couldn't care less about her situation.
Child Advocate Paul Peterson said Moran's co-stars tried contacting her in the last few weeks of her life, but despite everyone's best efforts, her troubles were too many and too difficult to figure out.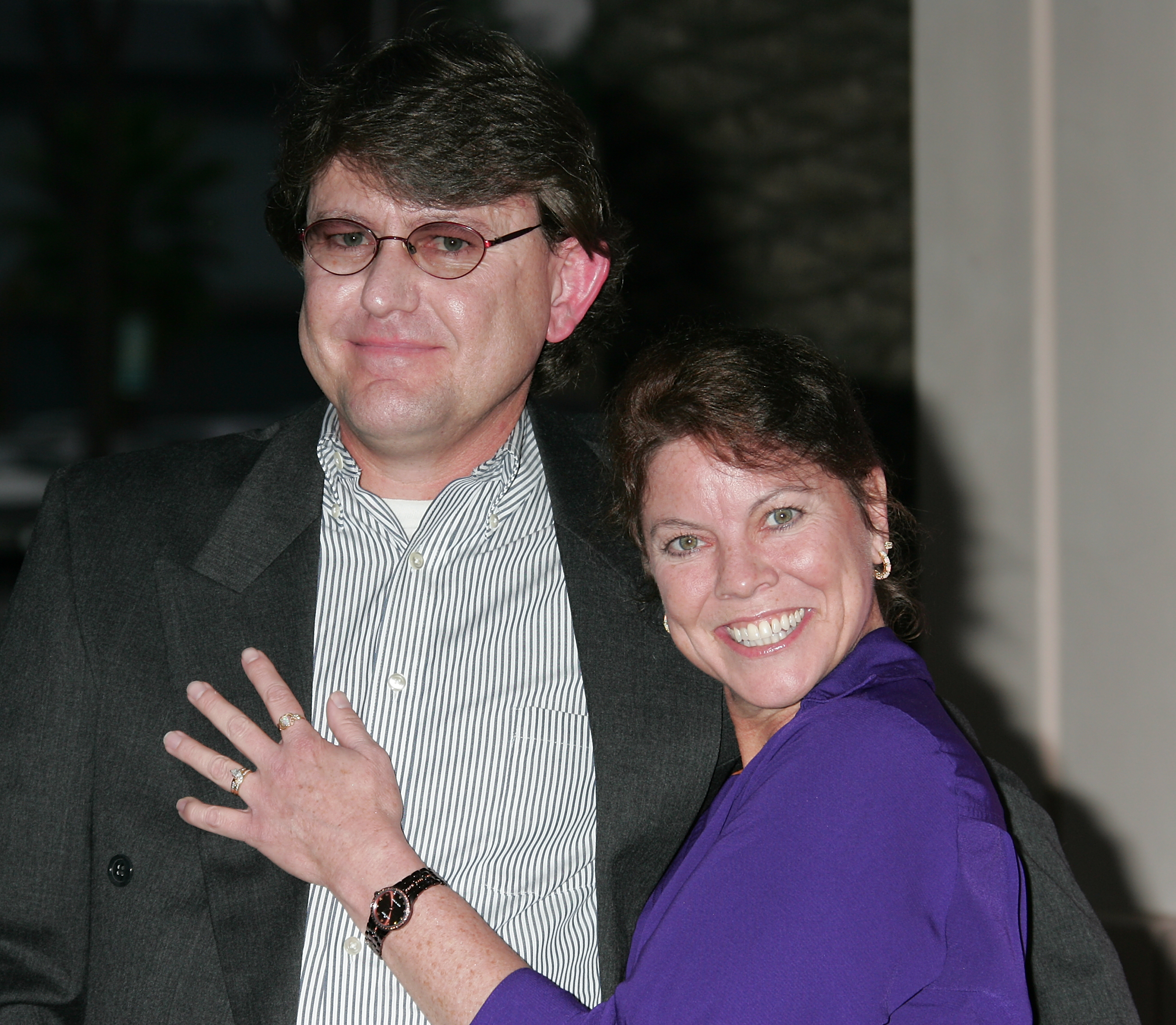 Actress Erin Moran (R) and her husband Steven Fleischmann at the Academy of Television Arts & Sciences on May 6, 2008, in North Hollywood, California. | Source: Getty Images
According to a Facebook post by Moran's longtime friend, Williams, she passed away on April 22, 2017. The touching note was an open letter from her grief-stricken husband. Per the post, Moran noticed a blood spot on her pillow in November 2016 and was later diagnosed with Squamous Cell Carcinoma.
Although Moran started chemo and radiation, she became too fragile and could not eat, drink, or talk. On April 21, 2017, the couple planned to celebrate their anniversary when Moran complained she couldn't breathe properly.
The next day, Moran asked her husband to fetch a tissue, and when he returned, she was in bed watching television. Holding his wife's hand, he dozed off, and when he woke up an hour later, she was no more. Moran took her last breath with Fleischmann's hand in hers.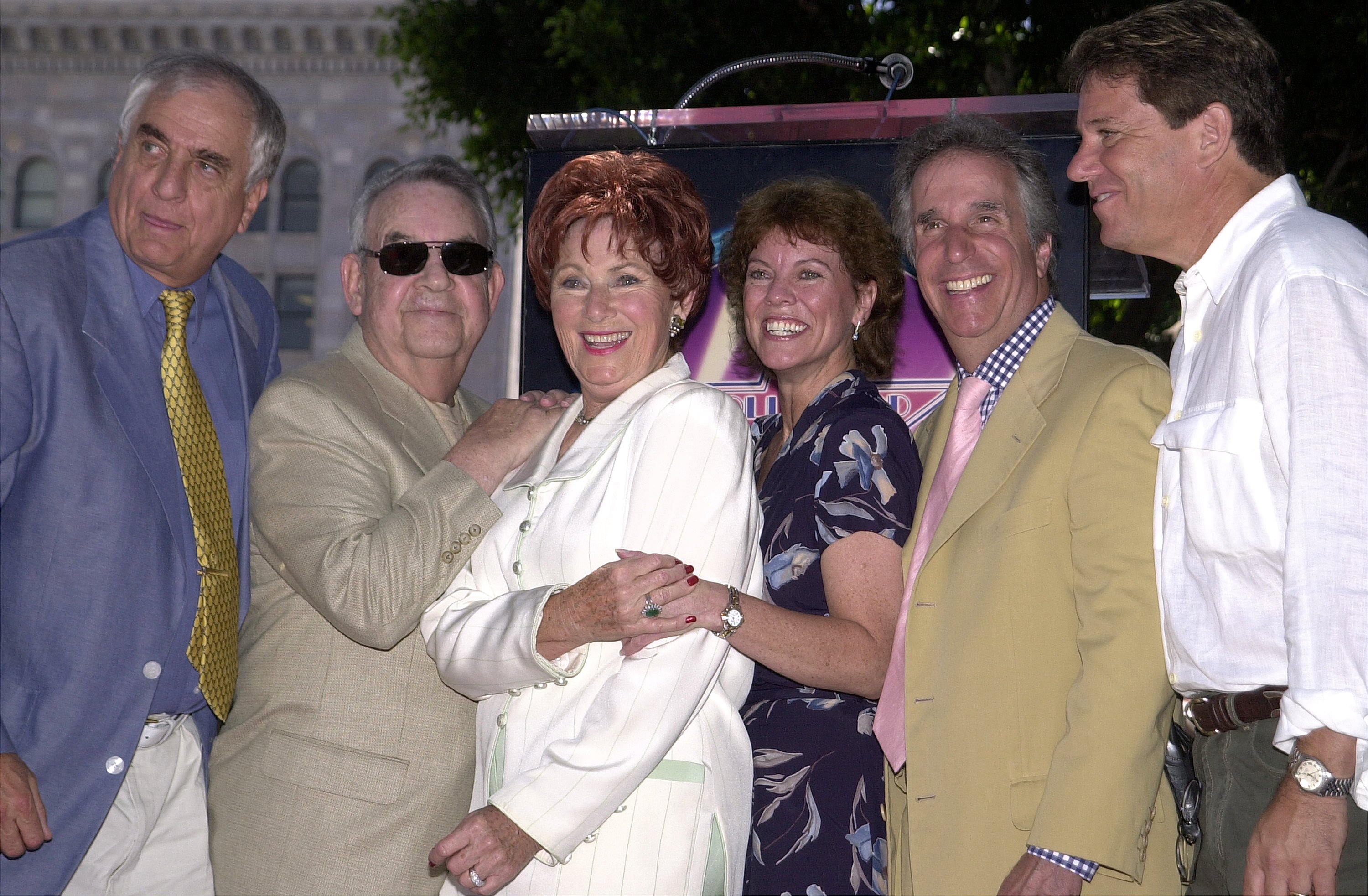 Director Garry Marshall, Tom Bosley, actress Marion Ross, Erin Moran, Henry Winkler and Anson Williams (L-R) on July 12, 2001, in Hollywood, California | Source: Getty Images
Following her death, Moran was mourned by a few of her "Happy Days" co-stars, including Winkler, Ron Howard, and her TV mom Marion Ross. "What a great irrepressible spirit and a wonderful talent. When I think of her then, which is how I choose to, she was this feisty-spirited girl," said Howard.
Ross called her television daughter a wonderful girl and prayed for her eternal peace. Winkler said he would never forget Moran with her adorable smile, and her memory would forever be etched in his heart.
"Oh, Erin… now you will finally have the peace you wanted so badly here on earth …Rest in it serenely now.. too soon," tweeted Winkler. Undoubtedly, Moran will always live on in the hearts of her family, friends, and fans!